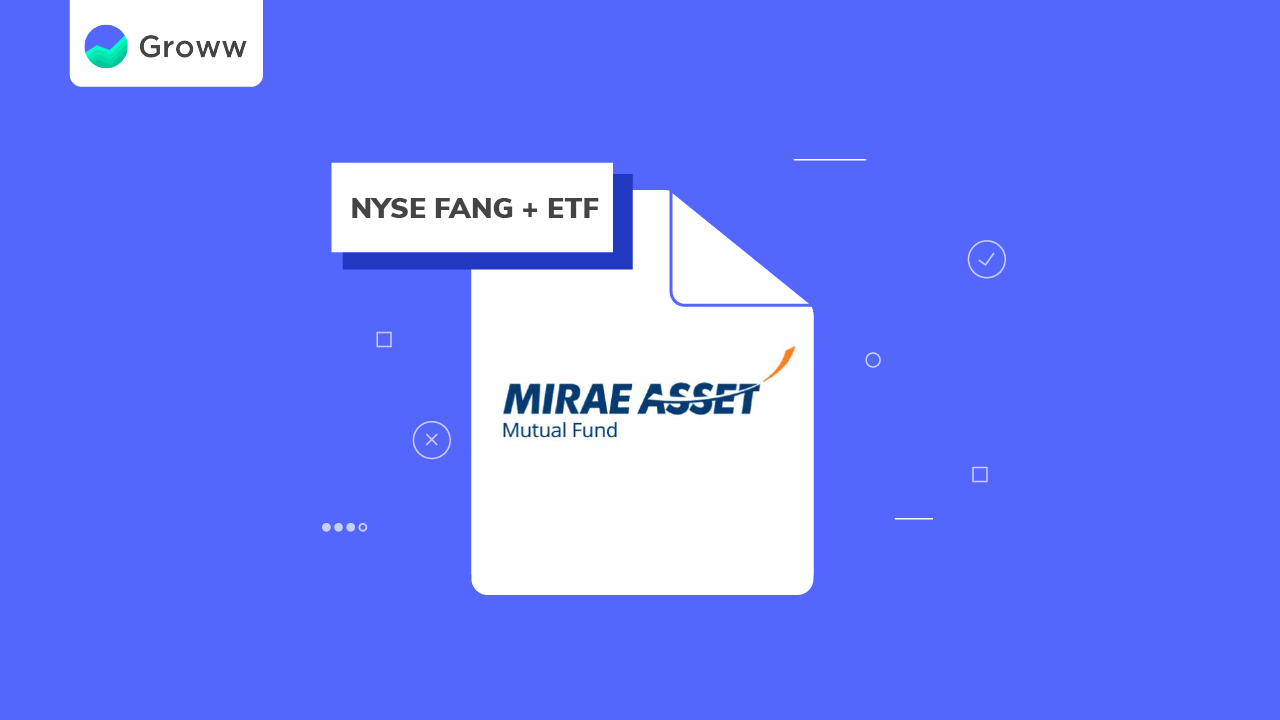 Mirae Asset Mutual Fund is launching an exchange-traded fund (ETF) that will track the NYSE FANG+ Total Return Index. The NFO opens on April 19, 2021, and closes on April 30, 2021.
What are ETFs?
Exchange-traded funds are funds that are listed on the exchanges and are traded just like stocks. ETFs in India are similar to index mutual funds. They track a particular index by imitating the constituents but are traded on the exchanges.
For this ETF, the fund will be tracking the NYSE Fang + Index and will be listed on the BSE and the NSE.
Investment Objective
The investment objective of the scheme is to track the performance of the NYSE FANG+ Total Return Index.
Benchmark
NYSE FANG+ Total Return Index
The NYSE FANG+ Index is a U.S.-based stock market index. The index gives investors exposure to 10 of the mist most highly traded tech giants.  FAANG expands to  Facebook, Apple, Amazon, Netflix, and Google. Apart from the Faang stocks, the index has other stocks like Twitter, Tesla, Alibaba and more.
Asset Allocation
Under normal circumstances, the asset allocation will be as follows: 
Types of Instruments 
Indicative allocation  (% of total assets) 
Risk Profile

Securities included in the NYSE FANG+ Index 

95% 

100% 

High

Money market instruments / debt securities, Instruments and/or units of schemes of domestic Mutual Funds.

0 

5% 

Low to  

Medium
Fund Details

Scheme name

Mirae Asset NYSE FANG+ ETF

Type of scheme

An open ended scheme replicating/tracking NYSE FANG+ Total Return Index

NFO Dates

April 19, 2021 to April  and 30, 2021

Fund Managers

Siddharth Srivastava

Minimum Amount for Application during NFO

minimum investment of Rs.5,000/- and in  multiples of Re. 1/- thereafter.  

Minimum Redemption Amount

Any amount

Load

a) Entry Load: Not Applicable 

b) Exit Load: NIL

Plans

The Scheme does not offer any Plans/Options for investment.

Options

The Scheme does not offer any Plans/Options for investment.

Minimum SIP Amount

Not available

Investment in securities market are subject to market risks, read all the related documents carefully before investing. Please read the Risk Disclosure documents carefully before investing in Equity Shares, Derivatives, Mutual fund, and/or other instruments traded on the Stock Exchanges. As investments are subject to market risks and price fluctuation risk, there is no assurance or guarantee that the investment objectives shall be achieved. NBT do not guarantee any assured returns on any investments. Past performance of securities/instruments is not indicative of their future performance.