For most sectors, including metals and mining, in the country, 2020 had been a challenging year. 
While most industry experts were optimistic about the next decade, the impending fear of the pandemic and the recent Russia-Ukraine war have not been helping the views on the sector.
Mining is highly sensitive to the vagaries of global markets, political conditions, environmental impact, and the ever-changing investor sentiment. In such a landscape, investors will do good to keep a close eye on the demand and supply of various metals and mining products.
Why are Metals prices rising?
In the simplest terms, while the demand remained the same, the supply reduced drastically. This can be primarily due to the Russia-Ukraine crisis.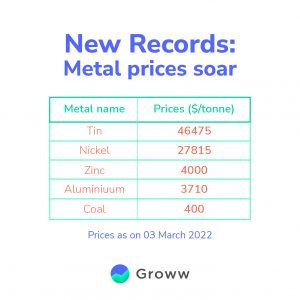 So when countries imposed sanctions on Russia, there was a sudden shortage of these metals in the global market. With the demand remaining the same, the prices of metals like steel, aluminium, nickel, and coal started to rise. 
While the metals industry is highly fragmented, the concentration of metals production from Russia is high. 
As the global markets try to look for alternative sources, the acquisition costs are likely to escalate, resulting in rising prices of these metals. Also, delays in establishing new sources, payments, and shipment releases may contribute to price rises.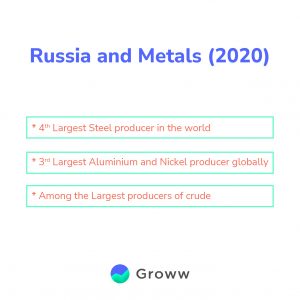 Let's look at how some key metals are performing
Aluminium
In recent years, there has been a marked increase in the demand for aluminium, driven by a range of factors. These include:
Companies prefer aluminium over plastic and bottle for packaging their products

A significant increase in the demand for commercial vehicles and high-end vehicles where the body of the automotive is made from aluminium as opposed to steel

An increase in the use of Electric Vehicles where the battery casing is made from aluminium
With sanctions on RUSAL, the Russia-based world's second-largest manufacturer of aluminium, the global supply of the metal is likely to fall, leading to a price increase.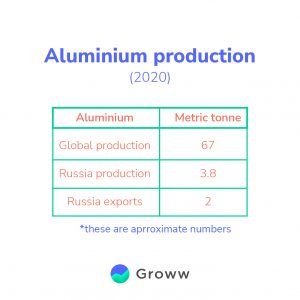 Thermal Coal
Russia is one of the primary suppliers of natural gas to Europe. In 2019 (calendar year), the global trade in thermal coal was around 987mt. Of this, Russia supplied around 170mt and exported nearly 19% of the global exports. If we look at the thermal coal imports by the EU, then Russia accounted for almost 47%!
With the Russia-Ukraine conflict, most European countries are trying to increase their thermal coal consumption to reduce their dependency on Russian natural gas. Many European nations plan to resume thermal power plants and switch to renewables to reduce reliance on Russia. But these plants need coal. Thus, the demand for coal is high, and coal prices are likely to remain elevated.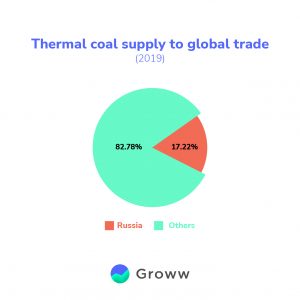 Steel
Last year (2020), the global steel trade was around 237mt. Of this, Russia was accountable for the export of around 29mt steel. This included the 9mt delivered across Europe.
With the sanctions on imports from Russia, Europe might experience a shortage in steel. With the EU looking for alternate sources, the demand for steel in the global market has gone, pulling up the prices of steel as well. 
Impact on India and Indian companies 
Indian markets, too, have witnessed an elevated price in metals. Let's understand the impact of the price increase on Indian companies. 
Here are a few major companies that investors can look at:
Hindalco
A subsidiary of the Aditya Birla Group, Hindalco is primarily into manufacturing aluminium and copper. Novelis, a subsidiary of Hindalco Industries Ltd, is a global leader in both these metals.
As the global aluminium prices soar due to the dual pressure of supply squeeze and increasing demand, Hindalco stands to benefit. It has good exposure both upstream and downstream. 
Aluminium manufacturers in Europe are struggling to find alternative sources. This can also create an opportunity for Hindalco to establish stronger export agreements. A major producer of global aluminium, China, has reduced its metal production to reduce its carbon emission. 
Gross Debt in FY2020-21 was Rs.65,994 crore. This was down 1.9% YoY.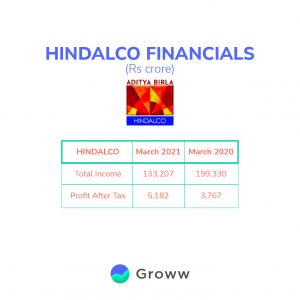 NALCO
Owned by the Ministry of Mines, Government of India, the National Aluminum Company Limited or NALCO has operations in mining, power, and metals. It is one of the primary beneficiaries of the increase in prices and supply crunch in the global market. 
It is a cash-rich company that pays dividends regularly. The Earnings Per Share was Rs.6.97 this year versus Rs.0.74 in FY2019-20. 
NALCO has no loans or borrowings from any bank or financial institution. It only has bill discounting arrangements with banks totalling Rs.46.11 crore in FY21.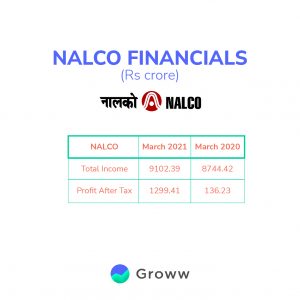 TATA Steel
One of the largest steel manufacturing companies, TATA Steel, has reported a strong financial performance in FY21. Russia and Ukraine play a significant part in exporting steel to the EU and other European countries. 
With manufacturing getting disrupted in Ukraine and countries imposing sanctions on Russia, Arcelor Mittal in Europe has increased steel prices. 
Steel companies, including TATA Steel, are working on shorter order books of 1-1.5 months. While rising coking coal and energy prices can be a cause of concern for the steel industry, the overall outlook is optimistic.
The group saw a huge increase of around 599% in Profits After Tax from the FY20. The Earnings Per Share (EPS) in FY2020/21 increased to Rs.63.78 from Rs.11.86 in FY20. The EBITDA per tonne saw a 73% increase from last year.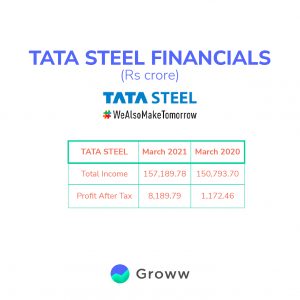 Coal India
An Indian government-owned mining and refining company, Coal India is the largest coal-producing company globally. There has been a drop in the prices and demand for coal in recent years for many reasons. With the world focusing on de-carbonizing its manufacturing processes, the global demand for coal shrunk. Additionally, there were multiple investments made by corporations in renewable energy sources and increasing dependence on natural gas as a replacement for coal. With the economic distress induced by the pandemic, coal prices and demand experienced a sharp contraction.
With most countries imposing sanctions against Russia, coal-based power plants were to resume operations. This sudden increase in demand for coal has resulted in a sharp rise in its prices.
Recently, the Indian government announced the merger of all five e-auctions into a single window. This is likely to intensify competition and result in higher prices.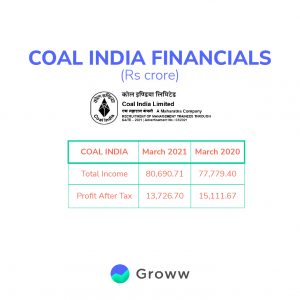 Sector outlook and investors take
Many investors believe that this can be another supercycle in the metals and mining sector. 

In this new information technology age, copper, the cornerstone of electrical circuits, is expected to be in high demand. 

Additionally, decarbonization metals like nickel, cobalt, and lithium used as raw materials for rechargeable batteries are also expected to remain in demand. 

The current Russia-Ukraine crisis seems to be a dampener on the supply chain leading to rising in metal prices. Investors must be wary of buying with the upswing. 
To read the RA disclaimer, please click here
Research Analyst: Bavadharini KS