L&T Emerging Businesses Fund is a small-cap mutual fund scheme.
This implies that it invests majority of its funds into stocks of small-cap companies. This fund is ideal for high risk taking investors as investing in a small-cap mutual fund scheme involves more risk as compared to investing in a large-cap fund, mid-cap fund, and hybrid fund.
This fund is an open-ended fund, which means that the investors enjoy greater flexibility in purchasing and selling mutual fund units.
Details
| | |
| --- | --- |
| AUM | Rs 5,631 Crores (as on 8th Feb 2019) |
| NAV | Rs 24.1 (as on 8th Feb 2019) |
| Minimum SIP Investment | Rs 500 |
| Expense Ratio | 0.87 % |
| Risk | High Risk |
| Benchmark | BSE Small Cap |
| Fund Manager | Soumendra Nath Lahiri, Karan Desai |
| Exit Load | If redeemed bet. 0 Year to 1 Year; Exit Load is 1% |
| Fund Started | 12th May 2014 |
The age of this fund is less as compared to its peers, since this fund is less than 5 years old. It has an expense ratio of 0.87% and the risk involved in this fund is lower as compared to the benchmark.
This fund has invested in 38 securities, out of which the top 5 securities make up 11 % of the portfolio. The fund also has a turnover of 31 %, price/earnings of 28.91 and price/book value of 4.32.
The 1 year and 3-year return of this mutual fund scheme is higher than its benchmark BSE Small Cap Index.
| | |
| --- | --- |
| Duration | Returns |
| 1 Year Return | -15.8 % |
| 3 Year Return | 18.5 % |
| 5 Year Return | NA |

Investment Objective
To generate long-term capital appreciation from a diversified portfolio of mainly equity and equity-related securities, including equity derivatives, in the Indian markets with the key focus being emerging companies (small cap stocks).
The scheme can also invest in foreign securities.
Emerging companies are businesses which are typically in the early stage of development and have the potential to grow their revenue at a higher rate, as compared to large-cap companies
Top 10 Holdings
The fund has invested in small-cap stocks like Mahanagar Gas Ltd, Persistent Systems Ltd as can be seen in the chart below. The fund has diversified its portfolio by investing in stocks from sectors like energy, healthcare, financial, technology etc.
| | | | |
| --- | --- | --- | --- |
| Name | % of Assets | Sector | Value in Crores |
| Mahanagar Gas Ltd. | 2.5% | Energy | 135.4 |
| Persistent Systems Ltd. | 2.3% | Technology | 127.4 |
| Sanofi India Ltd. | 2.2% | Healthcare | 122.3 |
| Tube Investments Of India Ltd. | 2.2% | Automobile | 119.9 |
| Future Retail Ltd. | 2.2% | Services | 118.8 |
| KPR Mills Ltd. | 1.8% | Textiles | 98.6 |
| Sterlite Technologies Ltd. | 1.8% | Communication | 96.3 |
| AIA Engineering Ltd. | 1.7% | Metals | 91.4 |
| Future Supply Chain Solutions Ltd. | 1.7% | Services | 91.2 |
| Bharat Financial Inclusion Ltd. | 1.7% | Financial | 90.7 |
Allocation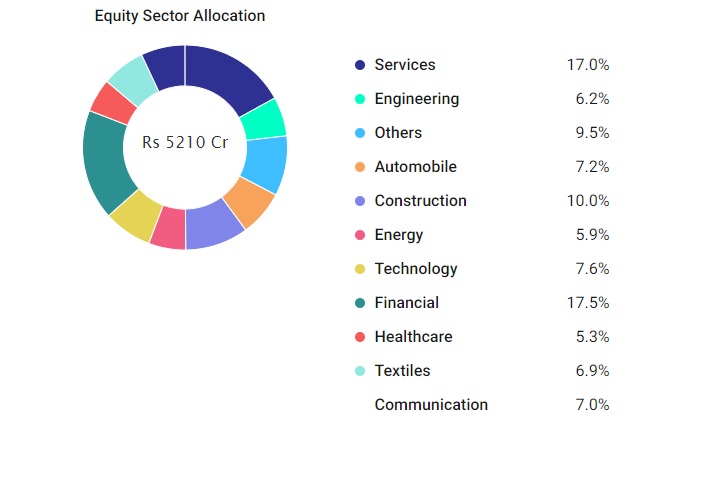 Fund Managers
Soumendra Nath Lahiri
Mr. Soumendra Nath Lahiri serves as Chief Investment Officer of Investment Management at L&T Mutual Funds.
He holds a Post Graduate Diploma in Management from IIM Bangalore and a degree in Engineering. He has an experience of over 17 years.
Lahiri keeps an eye on bottom-up stock picking. His investment philosophy is to invest for the long term in robust, growth-oriented businesses run by quality management teams available at reasonable valuations.
Few of the funds managed by him are:
Karan Desai
Few of the funds managed by Karan Desai are as follows:

Options Available For Investment
L&T Emerging Businesses Fund – Direct Dividend
L&T Emerging Businesses Fund – Regular Growth
L&T Emerging Businesses Fund – Regular Dividend
Benchmark of L&T Emerging Businesses Fund
The benchmark of this fund is the S&P BSE Small Cap Index.
This index is a small cap index which implies that it comprises of stocks of small-cap companies only. The market cap of these companies range between $300 million and $ 2 billion.
The 1 year and 3-year returns of the S&P BSE Small Cap Index is -27.50 % and 38.30 %.
Few equity scrips of this index are Madhucon Projects, Vadilal Industries, Vascon Engineer, Dilip Buildcon and Ybrat Digital.
As can be seen in the comparison chart below:
When we compare past 3-year returns of L&T Emerging Businesses Fund, we see that it has performed better than almost all the funds except HDFC Small Cap Fund.
The expense ratio is also on the lower side, the asset under management of this fund is comparable and at par with most of good funds of this category.
Holding Analysis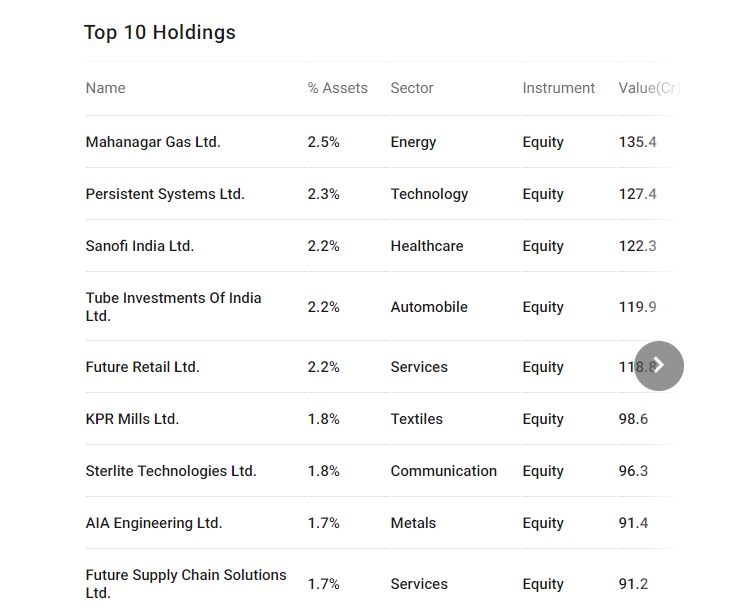 The fund has invested 92.5 % of its portfolio into equity and the balance has been kept in cash for liquidity purpose. Fund has not allocated any amount into debt. Now since this is a small cap fund majority of its investments in equity has been in small-cap companies.
Small cap stocks are stocks of publicly traded companies with a market cap of $300 million to $2 billion.
In terms of sector allocation, the majority of the funds have been allocated to financial and service sectors, followed by construction and energy sectors.
Exit Load
An exit load of one percent will be charged if redeemed or switched from this fund to some other fund on or before 12 months from the date of allotment. So no exit load will be charged for redemption post one year from the date of investment.
Tax Implications
Returns are taxed at 15% if we redeem before one year. After 1 year, we are required to pay LTCG tax of 10% on returns of Rs 1 lakh+ in a financial year.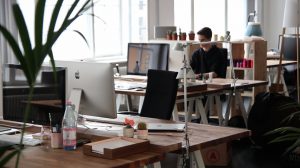 L&T Mutual Fund House
L&T Mutual Fund house was incorporated in April 1996 and was set up in January 1997. Its sponsor is L&T Financial Holdings Limited and the trustee is L&T Mutual Fund Trustee Limited. The CEO of this mutual fund house is Mr. Kailash Kulkarni.
Their vision is to be an Admirable, Inspirational and Sustainable institution. The mutual fund's emphasis is to give a superior long-term risk-adjusted performance for which they follow a disciplined approach to investment and risk management.
A robust monitoring and risk management process ensures checks and balances at every stage. Here is what happens through every step of our proprietary investment process:
Generation of ideas
Evaluation of companies
Monitoring of portfolios
Conclusion
Since this is a small cap fund it is advisable that only investors with a very high-risk tolerance and investment horizon should invest in this mutual fund schemes.
Small Cap mutual fund schemes are highly risky and volatile, but they also have the capacity to give good returns over a long period. Investors looking to invest in this fund should preferably look to invest for a longer duration.
Happy Investing!
Disclaimer: The views expressed in this post are that of the author and not those of Groww