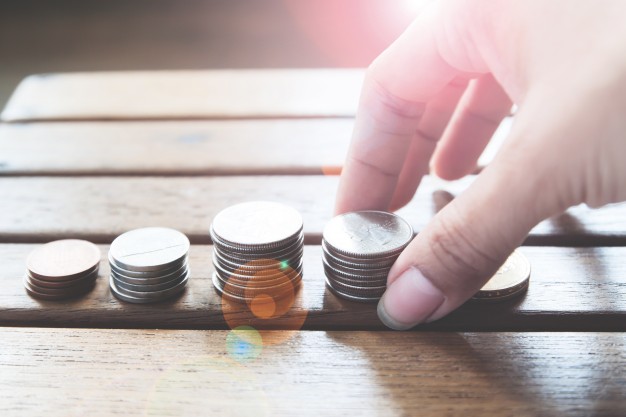 In an earlier article, I talked about how investing in mutual funds is still a better choice than fixed deposits. Just to summarise, mutual funds in comparison to the fixed deposits provide better returns, they are more flexible with tax exemptions, provide easy withdrawal, purchasing options and much more. Whereas on the other hand, there's very minimal risk associated with the fixed deposits as the rates for the entire tenure get set at the beginning. Loss of capital due to market change is almost negligible.
Let's take a look at the different use cases and scenarios and compare top fixed deposits plan available in India with mutual funds.
Top Mutual Funds Vs Fixed Deposit Comparison:
We are going to pick up a category, get some mutual funds out of it and compare it with the top few fixed deposit schemes. We will evaluate all possible pros and cons of each category, compare it with the good and bad in each fixed deposit and share a final verdict on what's good, and why. So let's begin.
Liquid Funds vs Fixed Deposits:
Liquid funds are the closest competitors of the fixed deposits as they provide better returns with similar levels of security. Talking about why one should invest in liquid funds instead of the fixed deposits – mutual funds are more flexible with tax returns, they are investor friendly and allow making purchases and redemptions at any time. Whereas on the other side, fixed deposits lock your money till maturity and the return is almost always less than the mutual funds.
Now coming to the comparison, from the liquid funds category we are going to look at the HDFC Short Term Opportunities Fund and Franklin India Low Duration Fund. Whereas for the fixed deposits we have a long list. Check out this Better than Fixed Deposits Portfolio.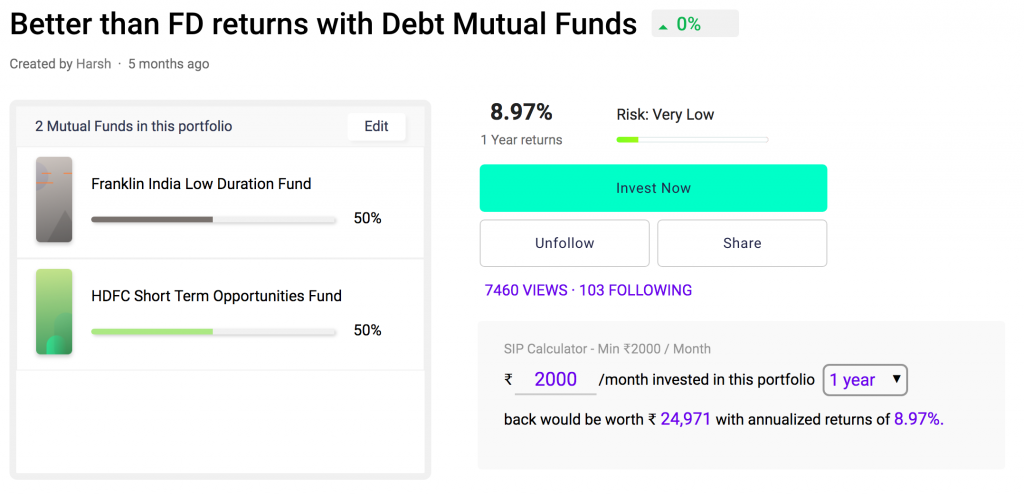 Kotak Mahindra Fixed Deposits vs Liquid Funds:
Kotak Mahindra fixed deposits scheme defines the interest rate based on the tenure you have in the fixed deposits scheme. The bank offers a fixed interest rate at which the individual gains annualised returns throughout the tenure. A person can either choose to withdraw the interest or reinvest to get cumulative returns.
In the Kotak Mahindra, you can have a fixed deposit for as little as 7 to 14 days, and enjoy a return rate of 3.50 percent or 4.0 percent for senior citizens. However, the real worth is when you go for 91 to 179 days where the interest rate is 6.50% and 7.00%. Also, for the standard slab, if you invest for 390 days, the interest rate rises to 7.00%.
To explain how different this is from the mutual funds, allow me to explain few concepts regarding debt funds. Debt funds are those that are directly related to the liquid investments and allocate their resources in such a way that a significant chunk goes to debt and remaining to cash equivalents. These funds are very safe and have almost no risks associated with them.
Let's first talk about how HDFC Short Term Opportunities fund stacks up against the fixed deposits.
If for a moment we neglect the little risk that comes with liquid funds, then investing in debt funds turns out to be more profitable and fruitful compared to fixed deposits. Benefits and returns from mutual funds cannot be matched with FDs, and regarding risk, if the interest rate goes down for debt funds, the similar impact can also be observed on the fixed deposits.
The reason why I said this is because, during the demonetization period last year, due to the massive inflow of the cash, banks started to cut down on the interest rates by 0.5 percent or more.
HDFC Short Term funds provide a three years return of 9.06 percent annualised, and if we compare these with that of fixed deposits, clearly, the fund is much ahead of the FD with a difference close to 2%.
The fund is free from any age barriers and tax is almost negligible if sold after three years. However, the managers charge a fee known as expense ratio to let the engines running. Deducting that, an investor can attain capital gains of approximately 9 percent.
Moving to another mutual fund, Franklin India Low Duration Fund, this fund is composed of debt and cash equivalent securities where the bigger percentage is with debt and remaining in the hard cash. Due to the larger debt distribution, this fund comes with three years annualised returns of 9.82% without any change in the risk factor. However, the expense ratio is little higher than the previous fund, and also the first minimum lump sum investment required is ₹10,000 whereas you can start your SIP or systematic investment plans for as low as ₹500.
The only downfall with such funds is that you have to keep the investment locked for at least three years to avoid taxes and exit loads.
Bank of Baroda Fixed Deposits vs Liquid Funds
Bank of Baroda (BoB) is yet another leader in the financial sector and offers attractive interest rates on fixed deposits. Let's find out if they are compelling enough to convince users not invest in mutual funds and go for FD.
Bank of Baroda offers same interest rates to both senior citizen and ordinary people. It is both good and bad as people who aren't senior citizen can enjoy rates no different than others, whereas, for the other age group, competitors of Bank of Baroda offer attractive schemes.
Let's first see what BoB has to offer in fixed deposits schemes. The bank provides plans which can let you invest your money for tenures ranging from 14 days to 10 years. Often higher returns are given on the tenures that are long and have minimum deposit period of three years or more. Bank of Baroda is no exception in this case and follows the same methodologies. It provides returns up to 7%  only if you keep your money deposited for a duration between 271 days to two years.
Depending on the scheme and returns you are getting, taxes are applicable. The same goes for premature withdrawals. The bank may charge you a penalty fee and other taxes.
Just like our previous comparison, in this case as well, mutual funds out perform fixed deposits on almost every front. The only point where they can put up the challenge is the return rates that are set for the entire tenure.
Also regarding taxes, mutual funds are on a much brighter side compared to FDs.
State Bank Of India vs Liquid Funds:
Another bank supporting Indian economy is State Bank of India. And apart from giving loans, they also have attractive deposit schemes. SBI is among the safest yet most reliable banks in India, and the interest rates are very competitive for other players in the market.
Just like some of our previous competitors, SBI surprisingly provides a return rate of 7.45% for the senior citizens. This scheme is for people who are willing to invest in the fixed deposits for a duration between 211 Days to 364 Days. Meaning, if you store your cash as a senior citizen for any period, say seven to twelve months, the bank will offer top of the line interest.
Moving further, if you want to invest for a longer duration, say three to ten years, SBI can go up to 6.50% for average age group and 7.00% for senior citizens.
Everything looks good and beautiful right now, however, if we take a look at the other side of the coin, you will be met with something you do not even want to wish. During demonetization, SBI was one the first few banks to lower down the interest rate.
There are no updates on when the bank will be able to get back to the same rates.
The slash was due to the massive inflow of cash which disrupted the books required to maintain the balance. Effects of it were also seen on the market, due to which even the debt funds took a dip.
SBI slashed the rates, and debt funds took a slight dip, but the mutual funds started growing back as per the market conditions where SBI still isn't sure of when to increase the rates. All these factors contribute to conditions where investing in mutual funds is much more rewarding than its direct competitor.
Balanced Funds vs. Fixed Deposits:
If you are willing to take some risk, then it's always a good idea to invest in balanced funds. The returns on most of the funds in this category is 12 percent or more.
Before explaining balanced funds, let me share my views on what's equity and debt funds. Equity funds mainly invest in stocks of different companies where the debt funds are all about investment in cash equivalents. Taking both of them under consideration, balanced funds are those that club both the equity and debt into one category by creating a proportion that satisfies both capital appreciation and less risky nature.
Now coming to the comparison, from balanced funds category we are going to look at the DSP BlackRock Balanced Fund and ICICI Prudential Balanced Advantage Fund. Whereas for the fixed deposits we have a long list.
Kotak Mahindra Fixed Deposits vs Balanced Funds:
The fixed deposits with Kotak Mahindra are somewhat attractive and offer a different interest rate on standard and senior citizen slabs.
The interest rate depends on the tenure for which you are investing your money. For example from 91 days to 179 days interest rate comes around 6.00 % on regular accounts and 6.50 % under senior citizen slab. The highest interest rate is on the fixed deposits that are of 390 days at 7.00 percent for ordinary people with 7.50 percent for the senior citizen.
Apart from that, depending on the tenure and scheme you are investing in with the bank, premature withdrawals may or may not be allowed. Banks may charge penalties for premature withdrawals along with other fees and taxes.
Compared to this DSP BlackRock Balanced Fund is good at generating more returns. If we look at the one-year figures, then DSP has proven to proven to provide returns ranging from 15% to 16%. On the flip side, if we look at the other performance metrics, then DSP also helps you in saving taxes on the returns, whereas in the case of fixed deposits it is dependent on the scheme. One important fact to remember here is that the fund doesn't guarantee a constant return rate throughout the tenure and is directly dependent on the market conditions.
Also, there is an expense ratio as well of 2.45 percent which is the amount deducted to ensure you get good allocations and the fund is in good shape.
Moving further, we have ICICI Prudential Balanced Advantage Fund on the list which again is very similar to what we just discussed. ICICI Advantage Fund comes with an average annual return rate of 11.85% and moderate risk level.
Compared to the DSP mutual fund, this fund is a little less aggressive, and that's why offers the return rate that is higher than F.D. but less than BlackRock.
However, the stability of this fund is much greater, and the risk factor is moderate compared to that of DSP. The main reason behind this nature is the way ICICI has allocated the investment. About 49 percent goes to the equity and remaining to the equivalent debt funds.
Other funds in this category behave almost the same way depending on the allocation among debt, equity and cash equivalent investments.
After liquid funds, the balanced fund is something investor can look at for wealth appreciation. They do have a greater risk factor associated. However, the capital appreciation is also huge. Moving further, we can even look at equity-oriented funds where 90 percent of flow is only towards equities and rest to the cash equivalents. In such funds, the risk is very high, however, so are the returns.
Verdict:
If you are investing in fixed deposits, and want better returns with same stability factor, then look for the liquid funds. Both the instruments offer same risk level but with a huge difference in the returns.
Returns on the liquid funds are higher as they are directly related to market investments, whereas fixed deposits rates are set by banks.
Disclaimer: The views expressed in this article are that of the author and may not be same as that of Groww.