The last 2 years or so have been tough for the IT sector. Issues like the H1B visa worries, mass layoffs, and management issues in case of some companies affected the performance of the entire industry.
Now, however, things are beginning to look up – especially after the recent quarterly earnings have been good. Some prominent members of the investment world foresee a similar performance in the coming quarters too.
The Indian IT Industry
Strong Growth Opportunities
The IT BPM sector in the country grew at a CAGR of 11.14 % to US $ 154 billion in FY17 from US $ 74 billion in FY10, which is 3 to 4 times higher than the global IT-BPM growth. It is anticipated that the size of the industry will increase to US$ 350 billion by 2025.
Leading Sourcing Destination
India is a well-known sourcing destination across the world, accounting for about 55 % market share global services sourcing business. India has a share of about 38 % in the overall Business Process Management (BPM) sourcing market.
Largest Pool of Ready to Hire Talent
India's highly qualified talent pool of technical graduates is one of the largest in the world, easing its emergence as a preferred destination for outsourcing, computer science/information technology contributing for the biggest chunk of India's fresh engineering talent pool, exceeding 98% of the colleges offering this stream.
Most Lucrative Sector for Investments
The Information Technology sector ranks 3rd in the country's total Foreign Direct Investment share and contributes to about 37 % of total Private Equity and Venture investments in India.
The computer software and hardware industry in India attracted cumulative Foreign Direct Investment (FDI) inflows worth US$ 29.825 billion between April 2000 and September 2017, according to report released by the Department of Industrial Policy and Promotion (DIPP).
Export and Employment Growth
Indian IT exports are forecasted to increase at 7 to 8 %. IT-BPM sector accounts for largest contribution in total Indian services export, which accounts for 45 %.
Large Contribution to the Indian Economy
The country's IT industry contributed around 7.7 % to India's Gross Domestic Product. IT industry has given jobs to about 3.9 million people in India of which more than 170,000 were added in Financial Year17.
The industry is expected to add 130,000 to 150,000 jobs in FY18 and over 100,000 jobs in FY19. IT industry is accelerating the growth of startups in the country, with the presence of more than 4,750 startups in India.
Expert's Views
Motilal Oswal
"IT has made an exceptional comeback in the past 3 to 4 months, considering the fact that it weakened for most of 2017-18. This quarter too holds promise for the industry."
This is what Gautam Duggad, Head of Research, Motilal Oswal, thinks. There are many positives like attractive valuations, solid free cash flow generation, strong balance sheets and depreciating rupee against the dollar. These are the major tailwinds for the sector.
The Nifty IT index has grown 8 % in the first quarter of this year.
Duggad said that they are anticipating that in a structurally adverse environment for IT, the current year 2018 could give a cyclical rescue. Given the current valuations, there is still some space for IT companies to keep doing well because they are still trading in the 15 to 16 range (P/E ratio).
TCS is available at around Rs 19 to 19.5 one year forward. Technology is making a big comeback after seven to eight quarters of slow growth. They are also anticipating a double digit profit growth.
Duggad anticipates IT giant Infosys to give a guidance of 6 to 8 % growth. Duggad added that when it comes to IT, the past two quarters have shown a slight improvement in revenue momentum which they anticipate to go on in the fourth quarter as well.
The expert is going with mid level companies within the IT sector. He is betting that they are anticipated to continue to outperform the tier I pack notably. The market has seen major management changes over the past two years in a lot of these tier-II IT companies.
SMC Investments and Advisors
D K Aggarwal, Chairman, and MD, SMC Investments and Advisors said that the IT industry has been continuously recovering from what has been a hard year earlier due to a broader slowdown in technology spending by banking and financial companies and doubt over work visa rules in the US.
The positivity has returned as the industry now has diversified into more profitable digital segments such as cloud computing, Artificial Intelligence (AI) and Big Data.
Kotak Securities
Kotak Securities also has an optimistic view for the March quarter, saying that it will be better than past few years.
They anticipate IT companies to start off on a conservative note for Financial Year 2019 revenue growth guidance. They are anticipating a 6 to 8% c/c revenue growth guidance from Infosys and 8 to 10 % from HCLT with no change in operating margin guidance. They further said that they maintain a constructive view on Infosys and Tech Mahindra.
Nasscom optimistic about IT Industry
Information technology body Nasscom anticipates the IT sector to increase at 7 at 9 % in the financial year 2018-19.
Indian IT industry's export revenues will increase to $135-137 billion from the $126 billion anticipated for the 2018-19. The industry body had forecasted 7 to 8% growth for the previous financial year.
Nasscom President R Chandrashekhar said that the possibility for growth is much higher and will be unlocked by supportive government policies that remove barriers.
Domestic revenues are anticipated to grow 10 to 12 % to $28-29 billion in the financial year 2018-19.
Nasscom further added that the digital revenues increase faster than ever at 30% in the present year, demonstrating the base for a solid foundation in digital capabilities built by the industry. The industry body anticipates digital expenses to increase 20 % annually.
However, Chandrashekhar sounded optimistic saying the mood is upbeat and the trend is positive, which should translate into better business opportunities.
R Chandrashekhar, who spoke with the media along with Nasscom Chairman Raman Roy, Vice-Chairman Rishad Premji and President-designate Debjani Ghosh said that the possibility for growth will be unlocked by policy support that decreases regulatory barriers, for which they continue to work with the government.
The domestic revenues are anticipated to increase at 10 to 12 % annually, while exports, the mainstay may lag in FY19.
Starting in a slow mode, the 2017-18 financial year saw an encouraging growth in the second half as the financial year is anticipated to close with revenues of $167 billion.
Nasscom chairman Roy has shown hope that the IT sector may add 100,000 new jobs during Financial Year 2019, which is 50 % lower than what it had forecasted for FY18, attributing the job loss in IT industry to the hiring of techies in other industry verticals.
Nasscom in June 2017 had predicted flat growth rate for FY18. Generally, Nasscom announces annual prediction in February. However, it was deferred owing to the Visa issues in the US and other global headwinds.
Chandrashekhar further added that headwinds are very much there. However, some unpredictability eased off.
The sector is facing multiple headwinds, but the overall industry continues to grow in customer base and domestic needs. The general global trend is upward, but the impact on the industry is translating over a tenure as some challenges impact overall good results
Nasscom had predicted an export revenue growth of 7 to 8% in FY18, compared to 7.6% in FY17. In FY16, exports earnings increased just 7.6%, while domestic revenue was around 10 to 11%.
Even on the hiring front, the outlook is dim with a 50% likely decrease from 150,000 to 130,000 new jobs projected for FY18. However, Chandrashekhar sounded positive saying the mood is upbeat and the trend is looking good, which should translate into better business opportunities.
"Our export revenues expected to be $167billion including e-Commerce this fiscal. Domestic sector is growing at 10 % annually and anticipated to be $28 to 29 billion in the next financial year against the projected $26 billion in FY2018, while hardware segment remains steady.
Roy said that it is a great milestone for the software and services industry to cross $150 billion tripling in size in less than a decade.
The growth of the B2B startup industry also represents a unique opportunity for our country to build innovative solutions for India and rest of the world.
From small digital pilots to POCs with product players, we are seeing industrialization of digital as the wave ahead.
The stated goal to reach a $1 trillion digital economy by 2022, for which we would need growth across all industries, established and new age companies, technology service companies and product companies, consumer internet as well as the more adoption of digital across enterprise, government, and MSME in India.
Ghosh said that Nasscom was working with the government on reskilling IT professionals while improving employment opportunities.
Positive Future Growth
The prediction, which was put out at the annual summit of the Nasscom, is in line with the 7.8% revenue growth it anticipated in the six months to the end of March 2018.
India's $154-billion information technology sector has been lashed by a broader slowdown in technology spending, while unreliability looms over work visa rules in the US, the biggest market for Indian software services firms.
US President Donald Trump has, however, so far not made any drastic changes to the H-1B visa programme, frequently used by Indian IT companies to bring engineers and developers to the US.
Executives at the summit in Hyderabad, fast rising as a competitor to traditional information technology hub Bengaluru were positive the industry could weather the present uncertainty by moving from low-profit businesses such as server maintenance to more sophisticated work such as artificial intelligence (AI).
Experts believe that there is still some instability and it is not clear how few of the known doubts will play out. However, Financial Year 2019 is likely to be a better year, based on their present assessment.
Major companies such as Infosys and Wipro have announced better earnings in the January-March quarter and information technology executives in Hyderabad also showed positivity about a continued recovery as the industry diversifies into more lucrative digital segments such as cloud computing and big data.
TCS company officials were particularly happy about artificial intelligence. Krishnan said TCS was already embedding Artificial Intelligence in its offerings.
However, finding fresh talent to work on Artificial Intelligence driven solutions could be a key limitation.
Indian IT Market Leaders
The TCS share price in the past 3 months has increased from Rs. 2558.60 to Rs. 3139.25 which is basically more than 22% increase in just 3 months.
Wipro in the past 1 year has increased from Rs. 247 to Rs. 286.65 which is more than 15 % increase. It also reached a high of Rs. 331.95 which basically shows the positive sentiment in the market.
Infosys has risen from Rs. 931.40 to Rs. 1162.60 in the past one year. The share price of this company has grown by more than 24% annually with a very optimistic response from the market.
Sector Funds Investing in this Industry
Here are some of the most prominent sector funds relevant to this sector.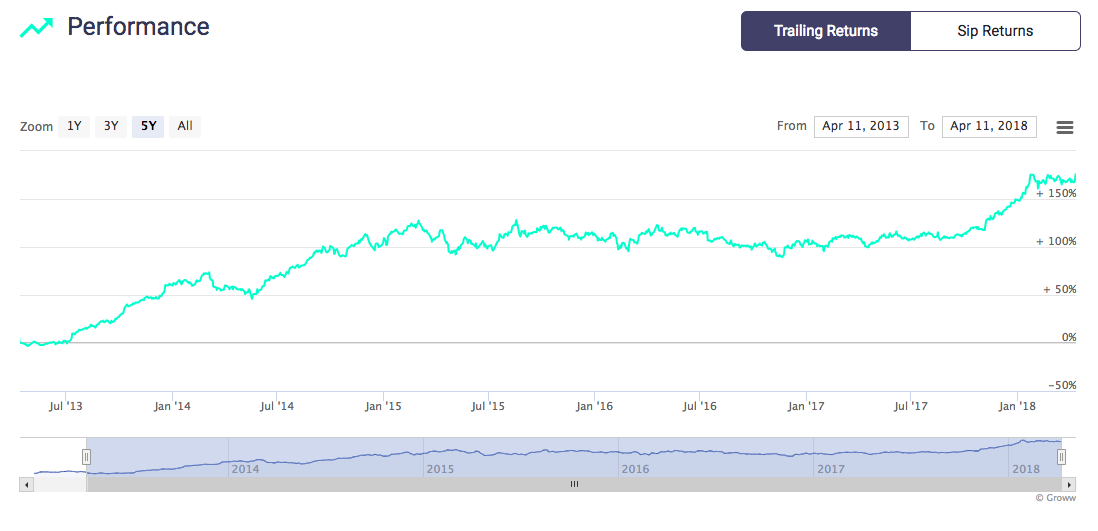 The returns of this fund remained flat since 2015. It was only towards the end of 2017 that this fund started picking up again.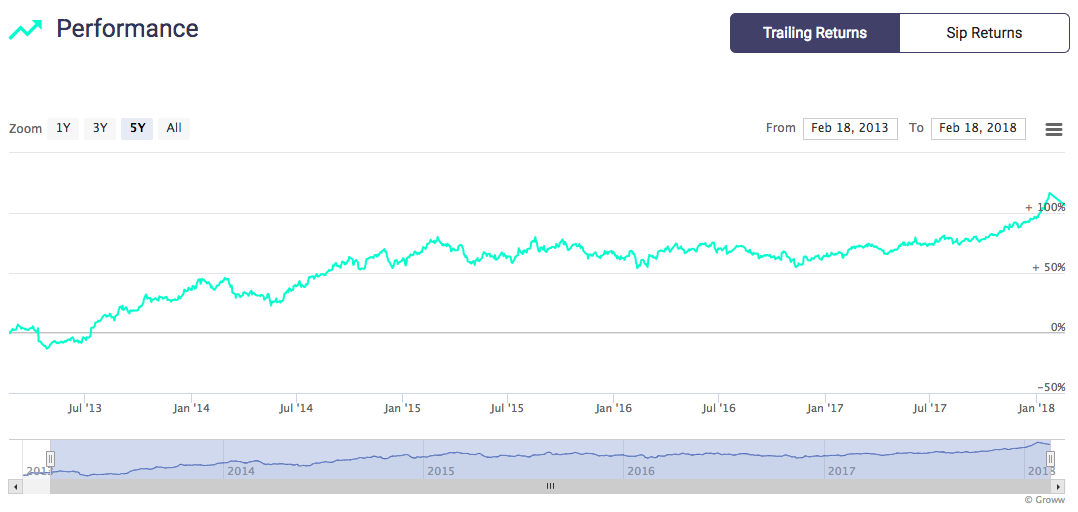 Another good fund for this sector, its performance too has started to go upward since late 2017.
Conclusion
With the improved market conditions for the IT sector and more available opportunities for the companies in this segment, there is growth expected in this sector.
If the companies will post better quarterly results then the market will also respond positively. All this shows a positive future roadmap for the investors as well as the Indian IT industry.
Happy investing!
Disclaimer: the views expressed here are of the author and do not reflect those of Groww.