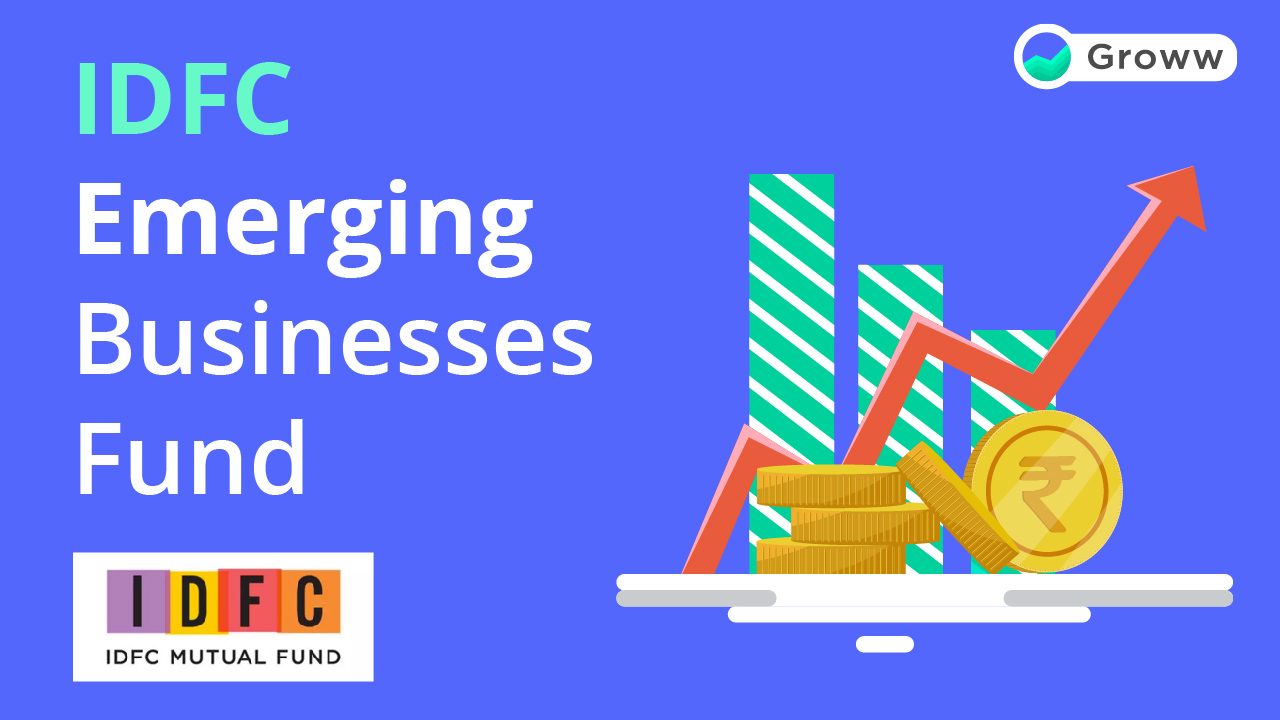 IDFC Mutual Fund has launched a new open-ended equity scheme called the IDFC Emerging Businesses Fund . The fund is primarily investing in small-cap stocks. The NFO is opened for subscription on February 3, 2020, and will be available till 17th February 2020. The units will be offered at Rs 10 each. The scheme will re-open within five business days from the date of allotment of units at NAV based prices , for ongoing subscription and redemption. The primary investment objective of the fund is to generate long term capital appreciation by investing mainly in equities and equity-linked securities of the small-cap segment.
Fund Details 
Name of the Scheme

IDFC Emerging Businesses Fund

NFO Dates

Opens on 3

rd

February 2020 and closes on 17

th

February 2020

Scheme Type

Open-ended equity fund mainly investing in smallcap stocks

Risk Level

Classified as Moderately High-Risk Scheme

Fund Manager

Mr. Anoop Bhaskar

Benchmark
S&P BSE 250 Smallcap TRI
Minimum Investment Amount

Fresh Purchase -Rs.5000/-& in any amount thereafter

Entry Load

NIL

Exit Load

1% if redeemed/switched out before 1 year from the date of allotment
The scheme offers both regular and direct plan with only the direct plan available on Groww. The plans further offer the dividend option and growth option; the dividend option provides you with the choice of dividend payout and dividend sweep option. The fund will invest at least 65% in the small cap segment ( mandatory).
The scheme will employ  buy and hold strategies (buy-and-hold is strategic) as well as opportunistic picks in the cyclical space. Furthermore, the fund will also look to participate in new businesses via IPO. 
The fund itself will aim to have a diversified portfolio approach with a 65-100% focus in small caps and remaining in other equities.  However, the strategy is also to  keep a distance from a concentrated portfolio – with a higher number of shares (>30-35) and lower allocation towards the top 10 stocks.
How  Will The Fund Manage Risks Associated With Small Cap Funds? 
Although small cap stocks have greater risks associated and have volatility in performances, they can generate higher returns as they have higher growth capability left in them. To avoid risks from investing in poor small cap firms, the IDFC fund will consider the qualitative aspects such as feedback on management from suppliers, customers, and peers.
To minimize liquidity risks, the fund will have a diversified portfolio as mentioned earlier. The fund will concentrate 65-100% exposure in small caps and remaining in other equities, depending on the market scenario.
About The Fund Manager
The scheme is managed by Mr. Anoop Bhaskar, Head – Equity at IDFC Asset Management Company and comes with a rich experience of 27 years in the mutual fund industry. Bhaskar has been working with IDFC AMC since February 2016. Prior to joining IDFC AMC, Bhaskar was associated with UTI AMC (April 2007-January 2016). Also, he began his career with Sundaram Mutual Funds AMC (August 2003-March 2007) and worked with Franklin Templeton AMC, Shriram Financial Services Ltd., Brisk Financial Services and Cross Borders Finance & Projects.
Other Funds Managed By Mr. Bhaskar
IDFC Core Equity Fund – Regular Plan
IDFC Multi Cap Fund – Regular Plan
IDFC Sterling Value Fund – Regular Plan
IDFC Hybrid Equity Fund – Regular Plan
IDFC Equity Opportunity Series 5 – Regular Plan
IDFC Equity Opportunity Series 6 – Regular Plan
 

How To Invest In This Fund On Groww?
You can invest in IDFC Emerging Businesses Fund on Groww in a simple and secure way. All you need to do is this just follow these steps:
Log in to your Groww account, sign up and complete KYC if you are a new user.

In the search bar, enter the fund name which is the " IDFC Emerging Businesses Fund" in this case.

Now, the fund page will open where you can check all the additional information related to the scheme such as the asset allocation, fund manager, holdings, etc.
On a Closing Note
Small cap investing is more suited for investors who want to achieve aggressive growth and hence possess a high risk appetite , so be sure about your own investor profile when going for the NFO. Also the scheme does not guarantee that the fund objectives will be achieved although the fund endeavors to do so. As an investor make sure, you perform the due diligence and make an informed decision before proceeding to invest. 
Happy Investing!
Disclaimer: The views expressed in this post are that of the author and not those of Groww.
Investment in securities market are subject to market risks, read all the related documents carefully before investing. Please read the Risk Disclosure documents carefully before investing in Equity Shares, Derivatives, Mutual fund, and/or other instruments traded on the Stock Exchanges. As investments are subject to market risks and price fluctuation risk, there is no assurance or guarantee that the investment objectives shall be achieved. NBT do not guarantee any assured returns on any investments. Past performance of securities/instruments is not indicative of their future performance.