HSBC Focused Equity Fund is an open ended equity scheme investing in maximum 30 stocks across market caps (i.e. Multi-Cap). The New Fund Offer (NFO) of the scheme opened for subscription on July 1, 2020 and closes on July 15. The scheme will reopen for continuous transactions on July 29 this year. Here are more details about the scheme.
Investment Strategy
The scheme aims to keep a minimum of 65% of its assets in equity or equity related instruments and the objective is to create long term wealth for its investors. According to the fund's allocation pattern, it may invest about 0 to 35% of its funds in money market instruments and about 0 to 10% in REITs and INvITs.
Fund Details 
The scheme will invest in 30 stocks across market cap categories. The scheme will have both regular and direct plan options. Both these plans will have Growth option and Dividend option (with dividend payout and reinvestment facilities), all under a common portfolio. 
The NFO price has been set at Rs 10 per unit and the units will be offered at NAV prices after reopening. The benchmark index for the fund is S&P BSE 200 TRI. You can find other details about the NFO below.
Name of the Fund

HSBC Focused Equity Fund 

Type of Scheme

An open ended equity scheme investing in maximum 30 stocks across market caps (i.e. Multi-Cap)

Equity category

Focused Fund 

Benchmark

S&P BSE 200 (TRI)

NFO Dates

Opens on July 1, 2020 and closes on July 15, 2020

Reopen

July 29, 2020

Fund Managers

Neelotpal Sahai and Gautam Bhupal

Minimum Application Amount/Minimum Purchase Amount

Rs. 5,000 and in multiples of Re. 1 thereafter

Minimum Additional Investment

Rs 1,000 and in multiples of Re 1 thereafter

Minimum Redemption Amount

Rs 1,000 and in multiples of Re 1 thereafter

Entry Load

Nil

Exit Load

1%- If redeemed on or before 12 months




Nil- If redeemed after 12 months

Plans

Regular Plan and Direct Plan

Options

Growth and Dividend option
Details for SIP Investment in the Fund
| | |
| --- | --- |
| Monthly SIP | Rs. 500/-  for minimum 12 installments |
| Quarterly SIP | Rs. 1,500/- for minimum 4 installments |
About the Index
The HSBC Focussed Equity Fund is benchmarked against S&P BSE 200 TRI index. The index captures the performance of the top 200 companies listed on the BSE. It has around 201 constituents as of July 2, 2020. 
Also, all mutual funds in India are mandated by Securities and Exchange Board of India (Sebi) to follow the total return index (TRI) version of the benchmark index. A TRI index  takes into account the stock price and the dividend payouts of the stocks while reflecting the final stock price.
About the Fund Managers
1. Neelotpal Sahai
Sahai is serving as the senior fund manager and vice president and equity fund manager at HSBC Global AMC. He has been with the firm since 2013. He has over 25 years of experience in research and fund management, having worked at several organisations before HSBC, namely IDFC AMC Ltd., Motilal Oswal Securities Ltd,among others.  
Sahai has also been managing the following  funds:
2. Gautam Bhupal
Bhupal has 16 years of experience in the industry. He has been working with HSBC since 2008 when he started working as a fund manager for PMS portfolios. He has been an investment manager and he took on the position of vice president and fund manager in October 2015. Before HSBC, he worked as an equity research analyst with UTI AMC from 2004 to 2008. Gautam also manages the following funds:
HSBC Infrastructure Equity Fund
HSBC Tax Saver Equity Fund
HSBC Regular Savings Fund

(alongside Kapil Punjabi )

HSBC Managed Solutions India – Growth (alongside

Anitha Rangan )

HSBC Managed Solutions India – Moderate

 (alongside Anitha Rangan )

HSBC Managed Solutions India – Conservative

(alongside Anitha Rangan )
Investors with moderately high risk appetite looking to benefit from long term wealth creation potential of equities with focused approach can consider investing in this fund 
Being a concentrated portfolio, the fund would have moderately higher risk but will also aim to deliver better than benchmark returns by investing in quality companies across market capitalization. The fund will follow a sector agnostic approach and aims to invest in companies which have potential to deliver higher long term growth.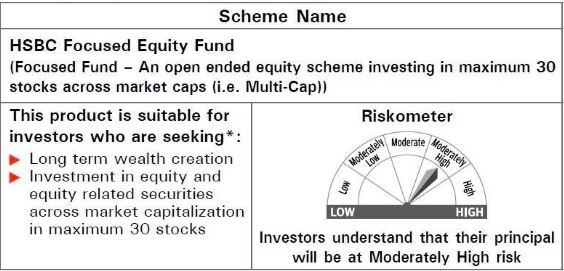 Source : Scheme Information Document –HSBC Focused Equity Fund
Mutual fund investments are subject to market risks, read all scheme related documents carefully before investing. 
Happy Investing!