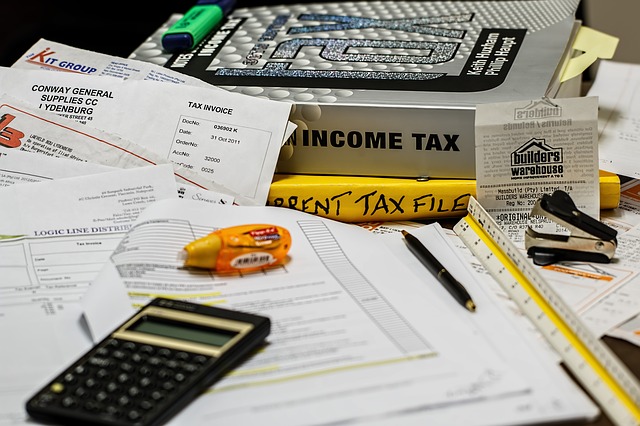 If you are someone who is going to file your income tax returns this year, this is an important read. The last date to link your Aadhaar with PAN is now extended to 30th September 2019, however, it is mandatory to link your Aadhaar with PAN in order to file your income tax returns. In this article, I have explained in simple steps, how you can link your Aadhaar to PAN and be prepared for the filing season. Let us begin!
How to Link Aadhaar with PAN to file Income Tax Returns
When filing your ITR it is extremely important to link PAN with Aadhaar unless the tax-payer is exempted from doing so under certain cases such as:
Non-Resident Indians (NRI), Persons of Indian Origin Card (POI), Overseas Citizenship of India (OCI), etc. who are conducting their businesses in India do not have to link PAN and Aadhaar card.
Foreign nationals residing in India are exempted from having to mandatorily link their PAN and Aadhaar card
People residing in the state of Assam, Meghalaya and Jammu &Kashmir are exempted from linking the two documents
People above the age of 80 are also exempted from having to link PAN and Aadhaar card.
Procedure for Linking Aadhaar card and PAN card
Linking via Online Method
The method for linking the PAN and Aadhaar card online-
Visit the e-filing ITR website (www.incometaxindiaefiling.gov.in/home)
You can go on the quick links as mentioned on the homepage where you can find a LINK AADHAAR option
Enter your Aadhaar and PAN number
Enter your name as per Aadhaar card.
Tick the box, " I have only Year of Birth mentioned in Aadhaar card", this is applicable only to those people who have just the birth year mentioned in place of Date of Birth (DOB).
You will then get a Captcha code for verification, you can also opt to request an OTP.
Enter the verification code and click on the Link Aadhaar button.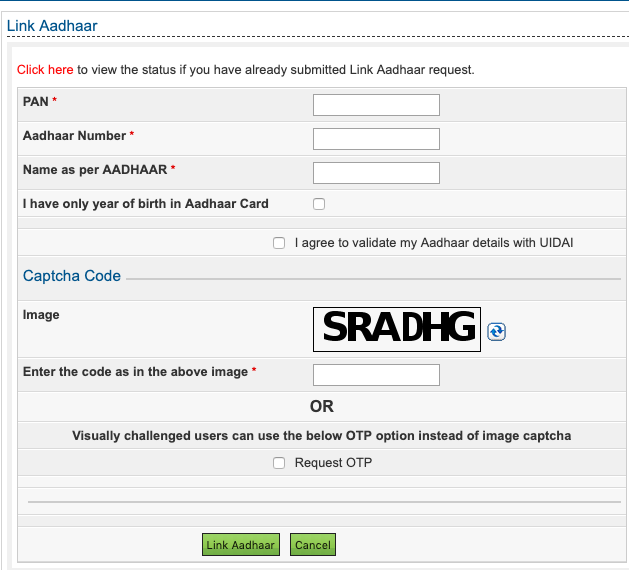 Source: https://portal.incometaxindiaefiling.gov.in/
Linking via SMS Method
You can also link your Aadhaar card and PAN card via SMS service, the SMS has to be sent to either NSDL e-Governance Infrastructure Limited or UTI Infrastructure Technology And Services Limited (UTIITL).
The SMS has to be sent in a specific format UIDPAN<SPACE> <12 digit Aadhaar><SPACE><10-digit PAN>
For Eg: If your Aadhaar number is 222233335555 and PAN is BBBPA1234Q. Then you are required to send SMS to 567678 or 56161 as-
UIDPAN 222233335555 BBBPA1234Q
Linking manually via Filling Up Annexure-I Form
In case you are unable to resolve the mismatch in detail between  PAN and Aadhaar through other methods can opt for manual linking as well. Central Board of Direct Taxes (CBDT) has also provided a manual method to ease the problems of taxpayers.
All you need to do is visit a service center of PAN service provider, NSDL or UTIITSL. It is important for you to fill the form 'Annexure-I' as well as furnish required documents like a copy of PAN card and Aadhaar card.

Source: https://portal.incometaxindiaefiling.gov.in/
Unlike online services, this service is not free of cost. You are required to pay a predetermined fee for the service. The fee charges depend on whether while linking, correction is made in the PAN or Aadhaar details.
For any corrections made in the PAN details, the fee charged is Rs 110. Whereas, for correcting Aadhaar details the fees charged is Rs. 25.
In case there is a major mismatch in the PAN and Aadhaar card, the authorities will ask for biometric authentication of the individual.
Conclusion
Aadhaar card provides multiple benefits to a user which includes Direct Benefit Transfer, Jan Dhan Yojana accepting Aadhaar, etc. On the other hand, PAN is used for many transactions in our day to day life. And hence, linking these two important documents will allow the government to curb incidents of tax evasion and track every transaction. So link your Aadhaar with PAN if you haven't already!
Disclaimer: The views expressed here are of the author and do not reflect those of Groww.