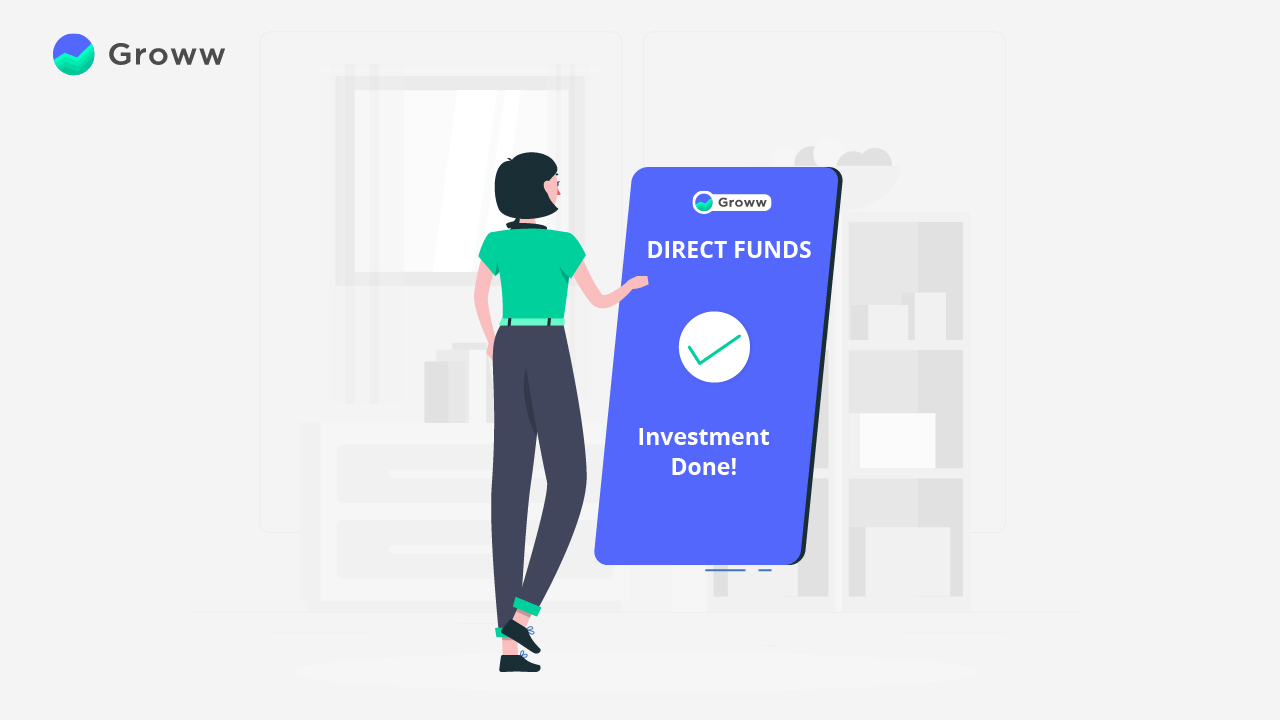 If you have decided to invest in direct mutual funds over their regular plans, you have certainly made the right decision. Direct mutual funds since they were introduced by SEBI in 2013, have been gaining steady popularity over the years.
With zero involvement from middlemen, direct funds ensure the amount you would have otherwise paid as a commission is saved and is added to your returns. That being said, the important question now is, how to invest in direct mutual funds in India.
Turns out there are various ways you can do so based on your preference. Here are the modes available, read on!
P.S: Check out the Groww YouTube channel for more knowledge packed videos on investing and pressing matters of the financial world.
How To Invest In Direct Mutual Fund Plans?
Investing in mutual fund-direct plans can be done in two modes primarily – the offline mode and the online mode. 
Before you begin, the first step is to choose the mutual fund you want to invest in. This involves knowing the mutual fund type and the asset management company (AMC) the fund belongs to.
Its also important that you keep in mind the amount you want to invest in the scheme, based on your goals and whether you want to go with a systematic investment plan or make lump sum deposits. 
Both processes require you to finish certain mandatory steps, let's see what each method entails. 
The Offline Method
If you have any reservations about investing online and prefer the traditional route, you can go with the offline method. The offline method is where you have to physically fill and submit a mutual fund form. 
Step 1: The first way is to visit the nearest office of the asset management company whose fund you have selected.
Now how do you find the nearest branch of the mutual fund company? simple, just go to the AMFI website (https://www.amfiindia.com/amc-branches). In the search bar select the name of the AMC and enter the city. You will get the address of all AMC centers in your city or closeby along with the contact numbers. 
You can also go to the local offices of  RTAs like Cams and Karvy which have a majority of mutual fund houses registered with them. To find the nearest Karvy office visit https://www.karvymfs.com/karvy/Generalpages/locateUs.aspx and to locate the nearest CAMS office go to https://www.amfiindia.com/cams-pos and sort by city. 
Once you reach the center you would be asked to complete your KYC ( Know Your Customer) process if you are not KYC compliant. The KYC document can be procured at the AMC branch itself. You would also have to carry a few other documents for in-person verification purpose, these include:-
Self-attested copy of PAN

Self-attested copy of address proof. For address proof you can use either of these documents -passport copy, latest telephone bill ( landline or mobile), latest electricity bill, latest bank passbook, bank account statement, latest Demat account statement, driving license, rent agreement, ration card. 

You also need to submit something known as a Common application form or SIP form. If you decide the SIP route you will also need to fill a NACH Mandate (National Automated Clearing House), which will give the asset management company permission to auto-deduct the SIP amount from your linked bank account from the starting date of SIP. 

Once you submit the requisite forms and documents, you would also have to submit a cheque or demand draft in the name of the AMC of the desired investment amount. You will be allotted the folio number for the investments made and an account statement once the transaction is initiated. 
You can expect a similar process at the local RTA office as well. Please note, offline methods to buy direct mutual funds require you to physically visit the branch and fill forms for any action that you would like to take with your investments such as redeeming fund units or stepping up SIP amount, etc. 
Online Method
If you would rather not take the hassle of a physical visit, you can buy direct mutual funds online. It is, undeniably more convenient.
As a first-time mutual fund investor, you need to look after the KYC formalities here as well. This is a one-time process; thus, you can use this information across all platforms to invest in Direct Mutual Fund Plans. Your PAN is crucial here, as all MF Companies check if your KYC details are linked with your PAN. 
You can invest in your desired Direct Mutual Fund investment schemes online in several ways – with the Asset Management or Mutual Fund Company or with the Registrar & Transfer Agent (R&TA).
Each method is discussed below.
1. Investment In Direct Mutual Fund Through The Asset Management Company Website
Similar to the offline method, you first need to choose a Mutual Fund Scheme and then visit its official website. Follow the steps mentioned below to proceed.
Open An Account With The AMC
Firstly, you need to set up an account with the Mutual Fund House or AMC. Details you need to provide here are similar to what you would in an application form. But the process of registration might vary from one AMC to another. While some might ask for all the details at once, some might require you to fill up the basic information first and then a detailed registration later.
It is the most crucial step in direct investing. Under the option of "Plan type" choose "Direct". Then choose the scheme in which you want to invest and under which option you want to initiate your investment. Here, you have two options – Dividend and Growth. Consider which would suit your investment objective and choose accordingly.
Choose Investment Details 
Select other important investment details which include – 

Systematic Investment Plan (SIP) or Lump-sum

Demat or No Demat

Whether a Registered Investment Adviser is helping you out or not – RIA Code 

Mode of payment

Bank name, bank account number, IFSC, account type and confirm the details.
Next, you need to verify the details you have entered in the above step. Make sure to check that all details are in line to avoid any hassles later.
Some AMCs might need you to validate application form submission with an OTP. It will be sent to your registered email id or mobile number.
Lastly, conclude the transaction by making the necessary payment via the method you had chosen when filling up your details. Once done, a confirmation will be forwarded to your registered number or email ID.
2. Investment in Direct Mutual Fund Scheme Through A Registrar And Transfer Agent
You can also choose to invest via a registrar such as Karvy or CAMS. However, you need to ensure that the Mutual Fund Scheme you want to invest in is registered with the respective registrar. In case it is not, you need to invest through the avenue mentioned above. The process is similar to investing through an Asset Management Company website.
You can also invest in Direct Mutual Fund Scheme through online platforms run by SEBI-Registered Investment Advisers.
Investing online comes with certain advantages, such as – 
Online investment is less time-consuming.

It opens you up to a variety of mutual fund schemes that remain limited when you choose the offline mode.

Once KYC details are updated, you can use it to invest in multiple Direct Mutual Fund schemes across different platforms.

Also, when you register yourself with an AMC, you do not need to repeat the same in the future if you need to invest in any MF scheme from that company.
What Other Options Exist To Invest In Mutual Funds?
You can also choose to invest in Mutual Funds through new-age online platforms such as Groww. These platforms provide a large assortment of Mutual Fund schemes under one roof, so you do not have to browse different websites to look for direct MF plans. Since they do not act as an intermediary, there are no transaction charges, extra or hidden costs involved when you invest.
 Available as both apps and web utilities, the process on such platforms is paperless and super fast owing to the better quality of user experience they offer. Moreover, you can perform multiple actions related to your investments from the same platform and track the performance of your portfolio as well. Such platforms also allow you to take multiple actions regarding your investments. They also have a wide variety of unbiased content that can aid you in selecting the right mutual fund scheme. 
Conclusion
Direct Mutual Funds are one of the most beneficial and economical methods to start investing as they eliminate the additional costs that accompany going the regular route. The difference between a regular and direct plan becomes noticeable in the long run, when, due to the compounding effect, extra costs involved in the two differ by as high as lakhs. While selecting the right route for yourself, make sure you read more about the pros and cons of each method. 
Happy Investing!
Disclaimer: The views expressed in this post are that of the author and not those of Groww.
Investment in securities market are subject to market risks, read all the related documents carefully before investing. Please read the Risk Disclosure documents carefully before investing in Equity Shares, Derivatives, Mutual fund, and/or other instruments traded on the Stock Exchanges. As investments are subject to market risks and price fluctuation risk, there is no assurance or guarantee that the investment objectives shall be achieved. NBT do not guarantee any assured returns on any investments. Past performance of securities/instruments is not indicative of their future performance.