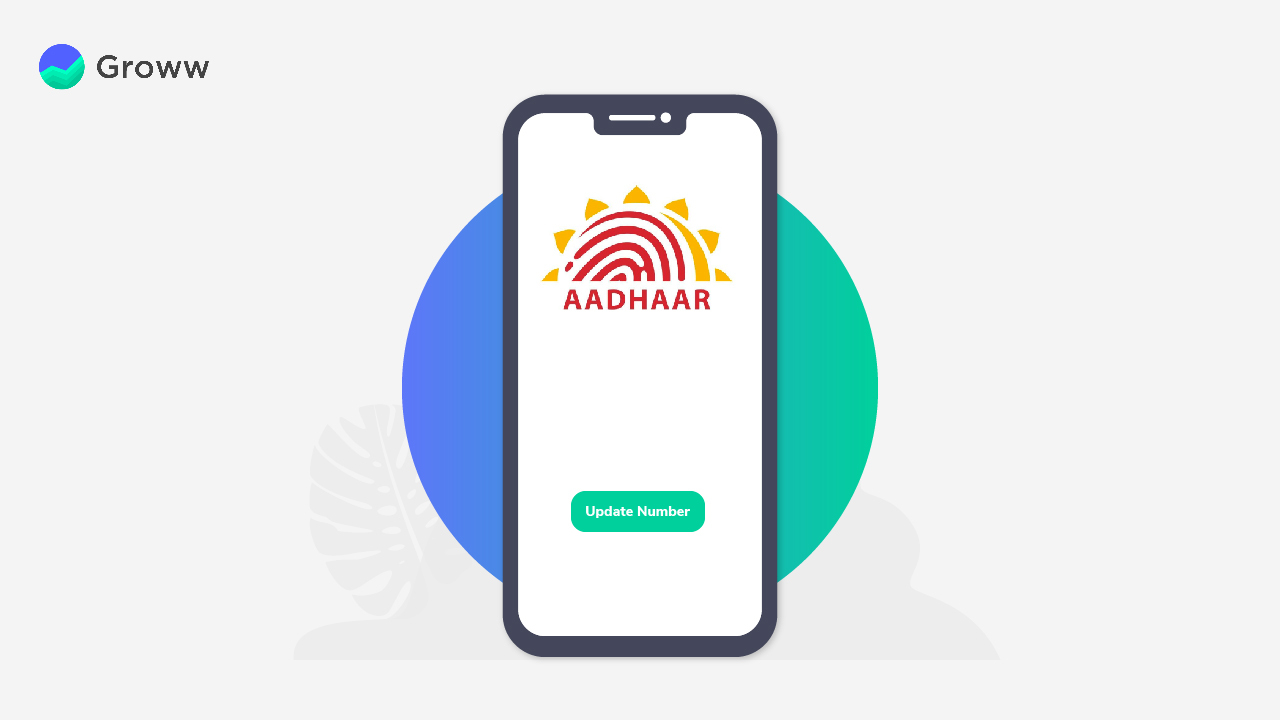 According to the Government of India, linking your Aadhaar with certain papers and financial services is obligatory, making the Aadhaar card one of the most essential proofs of identification in the country.
For many financial services like opening a demat account, online KYC is only possible if your Aadhaar card is linked to your mobile number. This is because during the online KYC process, you will receive an OTP on the mobile number linked to your Aadhaar card.
How to Add a Mobile Number to Aadhaar?
There used to be an online option for registering your cellphone number in Aadhaar via SSUP. Later, this service was phased down, and applicants must now visit the Aadhaar Enrolment or Update center to enroll or update their cellphone number in Aadhaar. The complete process of updating takes over 90 days. The following are the processes for adding your cellphone number to Aadhaar:
Visit an Aadhaar Enrolment or Update Center near you.

Complete the Aadhaar Correction Form.

Enter your current mobile number, which you wish to update in your Aadhaar.

Submit the form and assist them with biometric authentication.

The executive will then give you the acknowledgement slip.

An Update Request Number is mentioned on this slip (URN).

The Update Request Number may be used to follow the progress of your Aadhaar card update.

You do not need to obtain another Aadhaar card once you have updated your mobile number in Aadhaar.

Once your cell phone number is linked to your Aadhaar, you will begin getting Aadhaar OTPs for a variety of services.

You may also contact UIDAI's toll-free number 1947 to verify the status of your Aadhaar update.
Verify the Mobile Number
The procedure of verifying your Aadhaar Mobile number is quick and painless. Simply follow these instructions to quickly authenticate your Aadhaar to your mobile number.
Access the UIDAI website.

Choose the 'Verify Email/Mobile Number' option from the 'Aadhaar Services' drop-down menu.

Enter your 12-digit Aadhaar number, email address, mobile phone number, and security code.

Enter the OTP.

Select the 'Verify OPT' option.

If the verification is successful, a green tick will appear.
Why Register Your Mobile Number in Aadhar
Aadhaar card registration with an individual's cell phone number is encouraged for a variety of reasons. Some examples are as follows:
In order to use most Aadhaar-related services, an OTP is given to the registered cellphone number. The OTP should be given in order to use the service, adding another degree of security to Aadhaar. You will not be able to use these services if your phone number is not connected to Aadhaar.

You must register your cellphone number with UIDAI to use any Aadhaar-related online services.

To download your Aadhaar online, you will also need to enter the OTP that was issued to your cell phone.

You may also download the mAadhaar app and carry Aadhaar on your phone if your cell number is registered with Aadhaar.
Documents Required for Registering Mobile Number and Aadhaar:
As an applicant, you do not need to provide any documentation to update or register your cell phone number in Aadhaar. The only document that must be provided is the Aadhaar update Form, which must include your current cellphone number as well as the requisite money.
How to Change Mobile Number in Aadhar Card?
If you have misplaced your number or wish to alter your mobile number on your Aadhaar card, you may update it in UIDAI's database by visiting an Aadhaar Enrolment Centre. If you have changed your cell phone number, you can get it updated in the UIDAI database. To change your mobile number in Aadhaar, simply follow these simple steps:
Step 1: Visit an Aadhaar Enrolment Center in your area.
Step 2: Fill out the Aadhaar Update/Correction Form.
Step 3: Send the completed form to the Aadhaar executive.
Step 4: Pay Rs. 50 for the service.
Step 5: You will be handed an acknowledgement slip with the Update Request Number on it (URN)
Step 6: Using the URN, you may verify the progress of your update request.
Step 7: Within 90 days, your cellphone number will be updated in the Aadhaar database.
How to Change Mobile Number in Aadhaar Card – FAQs
Q1. How to change mobile number in Aadhar without OTP?
To change your cellphone number on your Aadhaar Card online without an OTP, go to your local Aadhaar enrolment center.
Q2. How to change the phone number in the Aadhar card when the phone number that is registered does not exist?
If your registered mobile number with Aadhaar no longer exists, you can replace your mobile number on your Aadhaar card by visiting the nearest Aadhaar enrollment center with your original Aadhaar Card.
Q3. What are the charges for Aadhar mobile no change?
If you change one or more fields, the Aadhaar Update fee is Rs. 100 (if you also update biometrics) and Rs. 50 otherwise (if only demographics details are being updated).
Q4. Is it possible to link two mobile numbers to an Aadhaar card?
No, you cannot associate two mobile numbers with an Aadhaar card. The same mobile number, however, can be connected to several Aadhaar.
Q5. How long does it take to update an Aadhaar cell phone number?
Once a request is submitted, it might take up to 90 days to change a cellphone number in Aadhaar.