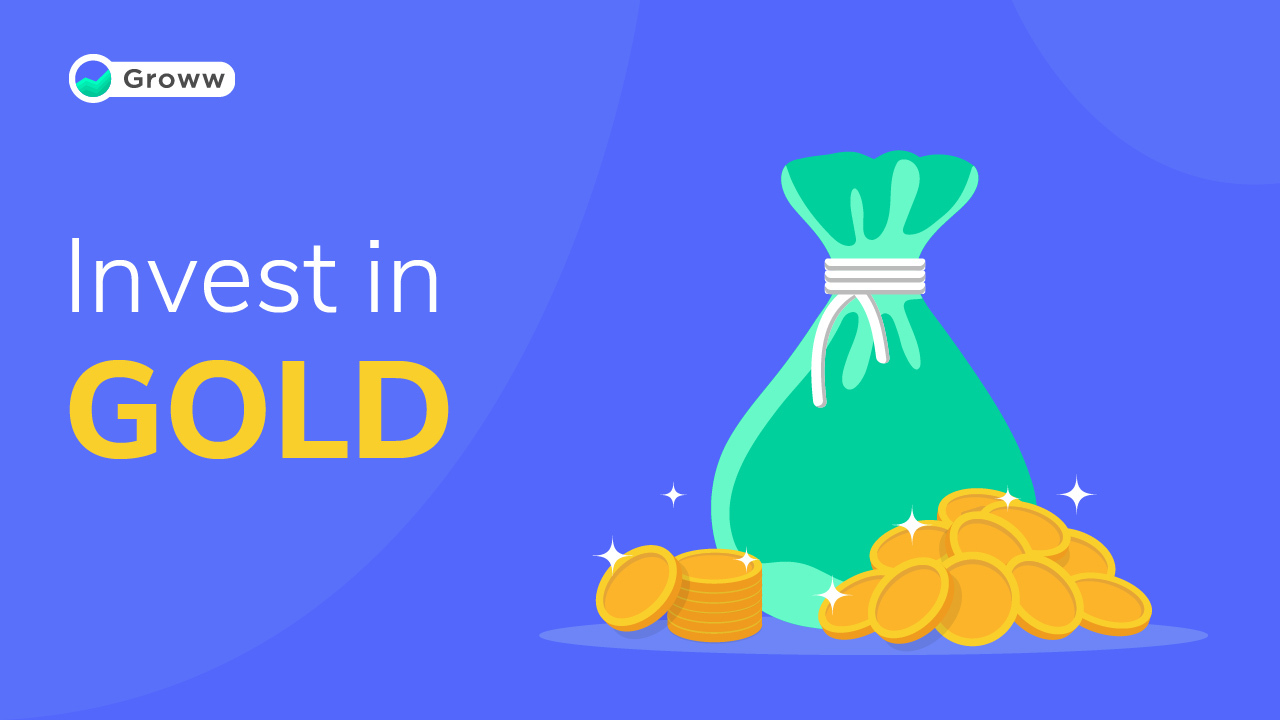 In India, gold is held in high regard both for its auspiciousness and investment value. While there are many ways to purchase gold in India, digital gold is one of the most convenient and cost-effective ways of buying the yellow metal.
In light of this, Groww has introduced digital gold to make this process simpler and convenient for you. Covered ahead are the detailed steps you can follow to invest in gold on Groww successfully. Read on!
How Does Groww Facilitate Investing In Gold?
Groww facilitates this process keeping in mind the safety and ease at very transparent prices. Groww has partnered with Augmont which is an integrated precious metals management company.
The company has a leading product that goes by the name of Bullion India, which allows customers to trade in gold in variable denominations. Augmont is where Groww gets its 24-Karat gold of 99.9% purity from. The gold you buy will be stored safely in your digital account.
How to Start Investing in Gold On Groww?
You can start purchasing gold in grams equivalent to a price as less as Rs 10 on the platform. Let's see how.
You can access Gold on Groww both on the web (https://groww.in) as well as on the app. Please update your app to the latest version to view Gold on Groww.
Step 1 : Enter the amount to buy gold. You can purchase gold at the live market rate displayed on Groww, either in Rupees or Grams.
Step 2 : Pay with your Groww balance instantly within the price window to complete the transaction and gold will be instantly added to your gold locker.
Click on 'Add money to buy' to top up your Groww balance.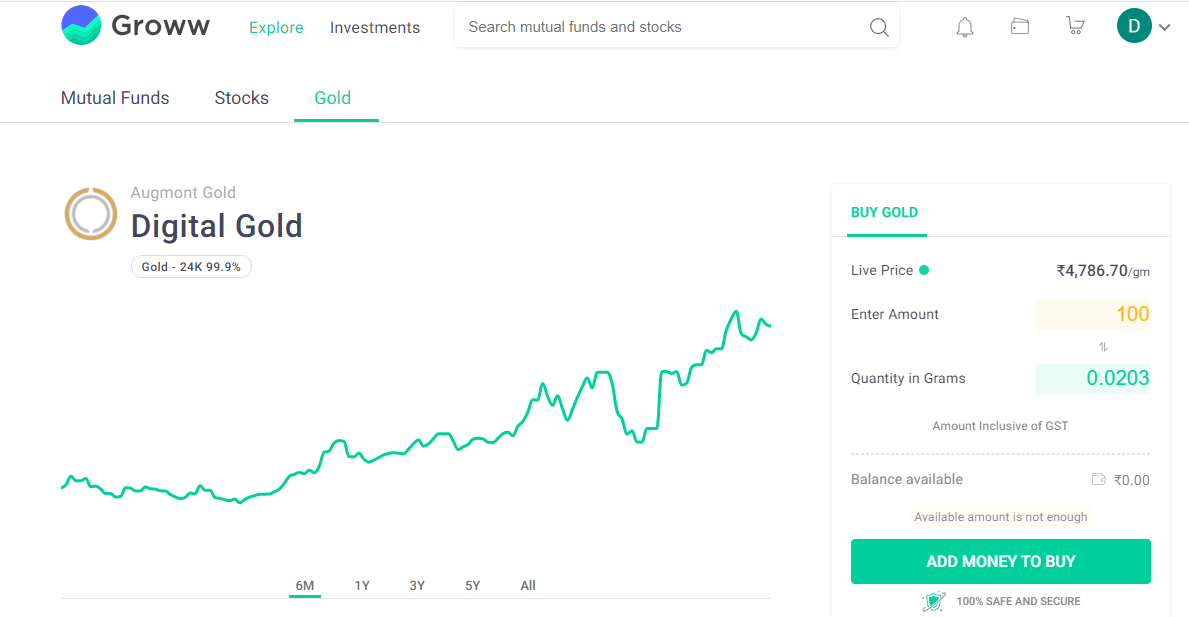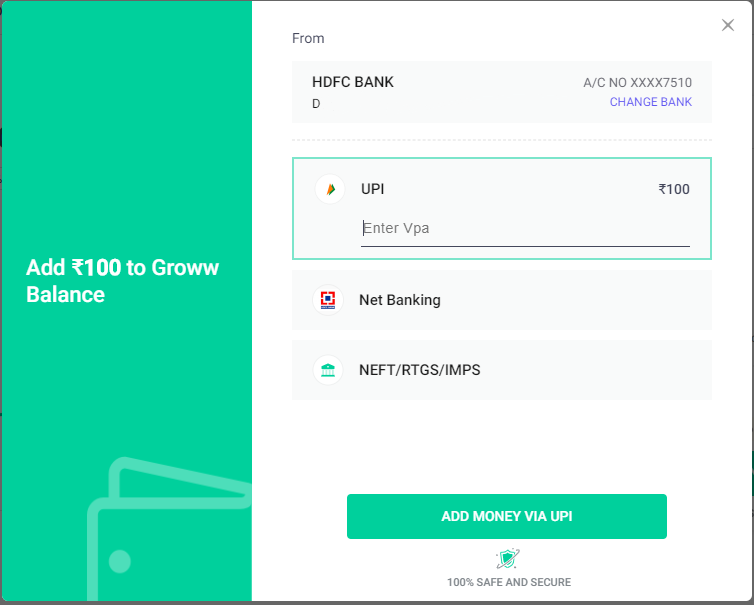 You can choose the method of your choice to add money to your Groww balance.
Step 3 : Once you have sufficient funds, you will be shown the following screen. Please note the live price is valid only for 5 minutes.
The amount you enter to buy gold in grams is inclusive of GST so plan accordingly. Click on 'confirm and proceed' if you are satisfied with your order or click on 'back to edit' back to edit the details.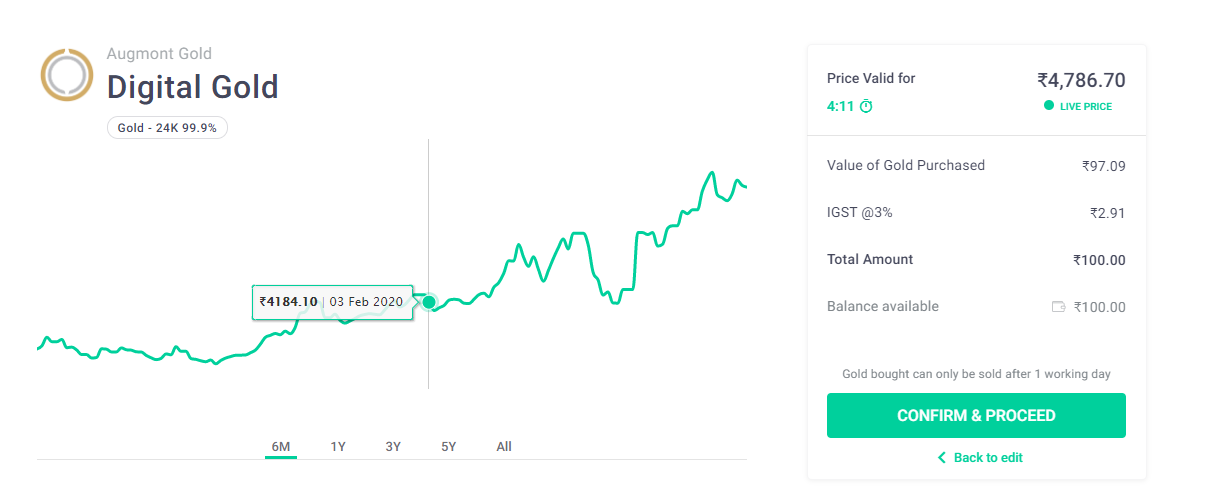 And that's it! After you have made a successful purchase, your gold balance will be updated in your gold locker held by Augmont and accessible anytime on Groww's dashboard.
You will be able to view your holdings in both grams and rupees. You can view all your previous transaction history on the Groww dashboard.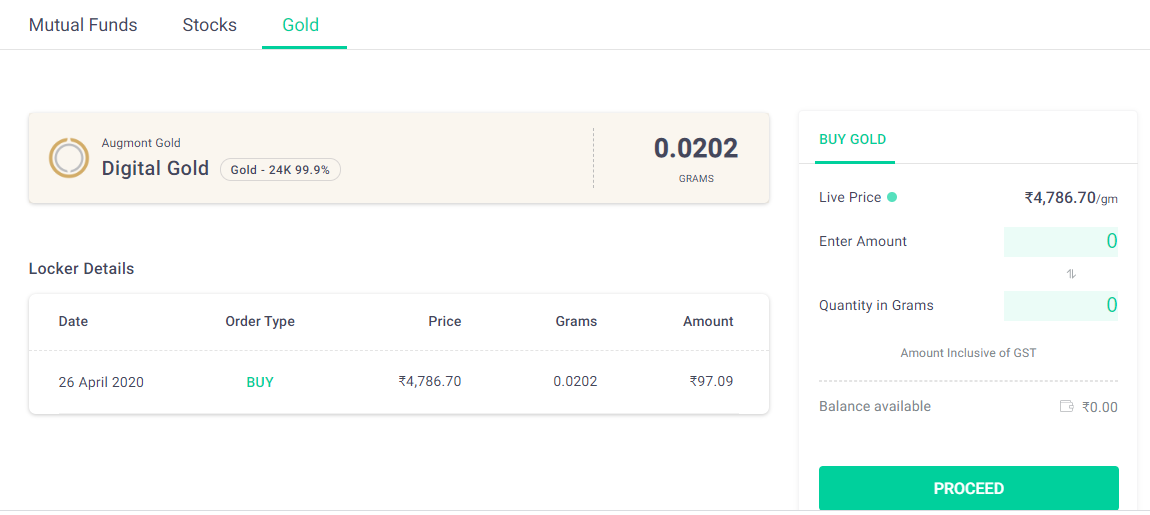 Please note, you will be able to sell any amount of gold at the live market price. The sell price will always be transparently published at any point of time.
You will be able to sell gold only after 24 hours from purchase. Once you complete your purchase, you will also receive a confirmation receipt on your registered email id from Augmont, complete with the order details.
All rates showed on Groww, while purchasing or selling are inclusive of GST, customs duty, and other taxes. Tax on income from sale of gold is applicable..
Why Choose Digital Gold? 
Digital gold solves many of the problems that accompany buying gold in the physical form. Some of these include damage, risk of storage, increased possibilities of theft, and loss as a result, etc.
Here's where digital gold works as an excellent alternative, especially if you want to buy gold for its investment value. All you require is access to the internet and you can be the legal owner of the bullion you buy online.
With digital gold, you can buy any quantity you want of the highest purity and execute buy and sell decisions at market-linked prices with just a few clicks. The gold bought online will be insured and kept safely with the reputed custodian/trustee on a consolidated basis.
For any help, you can drop a mail to support@groww.in and we would be glad to assist you.
Happy Investing!