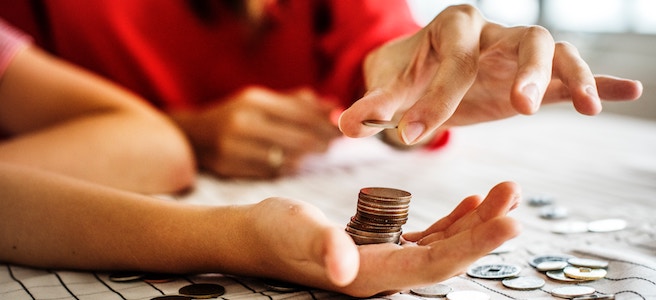 HDFC Bank is one of those stocks that continued growing even after it attained a big size. Today the HDFC Bank share price still attracts investors due to the stability it offers.
HDFC Bank share price
HDFC Bank share price: ₹2115 (11th Jan 2018)
HDFC Bank: stock analysis
The most distinguishing characteristic of an entity is applauded when it sails through the toughest times. There is no doubt that HDFC is one of those banks.

It is almost known to everyone that HDFC is India's largest bank by assets.
And there is no doubt that its leaders have strived so hard to maintain that position in the market. Aditya Puri, managing director HDFC Bank –relies on two simple traits for staying on top: common sense and discipline.
And the result of this top quality management and consistency is seen with a stupendous market capitalization of ₹5,74,399.48 Crores.
Over the past decade, even India's biggest banks have become burdened with rising non-performing assets (NPAs). HDFC has been a beacon of stability with consistent loan growth, continuous innovation, and solid asset quality.
This can be seen with the high level of penetration which can be seen in the following statistics (as of 31st March 2018)
| | |
| --- | --- |
| Parameters | Values |
| NIM | 4.4% |
| Branches | 4787 |
| Presence in number of towns and cities | 2691 |
| Number of ATM centres | 12,635 |
| Deposits Growth | 21.4% (CAGR Growth since 2010) |
The 23-year-old Indian bank was incorporated as HDFC (Housing Development Finance Corporation) Bank Ltd. in August 1994. It was given banking license in January 1995.
Today it provides following products and services wholesale banking, retail banking, treasury, auto loans, two wheeler loans, personal loans, loans against property, consumer durable loan, lifestyle loan and credit cards.
On September 2004 the Reserve Bank of India (RBI) added HDFC Bank to an elite list of Indian lenders.
HDFC, India's second-largest-private-sector lender, is now one of India's domestic systemically important banks (DSIB). This leads one to ponder about the success factors of this organization and through this discussion, we bring to you how rapidly this organization has grown in recent years and gained that edge over its competitors.
How HDFC Bank rose with stability
HDFC Bank was set up and was one of the first lenders in the country to receive the RBI's in-principle approval after India decided to liberalize its banking sector.
Till then dominated by state-run banks.
A year later, the bank opened its first branch in south Mumbai's Churchgate neighbourhood.
Since its inception, HDFC Bank has been led by managing director Aditya Puri, a former CEO of Citibank Malaysia.
The lender has by now built a customer base of over 40 million and a network spanning 4,787 branches in almost 2,700 Indian towns and cities. Puri himself has gone on to become the longest-serving CEO of an Indian bank.
The bank was promoted by the Housing Development Finance Corporation (HDFC), a retail housing finance firm founded in 1977 by Hansmukh Parekh, a former chairman of the Industrial Credit and Investment Corporation of India (ICICI).
"At that time none of us realized that the bank will showcase such stellar growth and performance," Deepak Parekh, chairman of HDFC, told Quartz. "I believe the continuity of the top-most senior management and their contribution has helped the bank grow to these levels."
While many of its competitors including ICICI, SBI were focusing on big-ticket loans like corporate loans, HDFC mainly focused on retail loans and built a strong and loyal base of customers through it.
As per latest data, retail loans consists of 54% of its total loan book. Not only lending to retail customers for the sake of having increased growth, but the bank also conducted proper due diligence of these customers.
These efforts have paid off today when other banks are struggling with the NPA (Non-Performing Assets issue) in the country.
In the rat race for increasing growth, they preferred big corporate loans and infrastructure and power sector loans. This concentration risk default by these banks has led lot of problems in the Indian banking sector.
The Asset Liability mismatch problem which many banks are facing today traces back to the after the crisis of 2007-2008. Asset Liability Mismatch mainly refers to the concept where companies take short duration loan but take longer duration periods to pay back that loan.
Post the crisis, banks had to increase their loan book size which could be easily done through lending to corporate and infrastructure sector.
Also from 2012 onwards, it was relatively easier to take loans through commercial paper but at the same time very difficult for companies to repay back loans in a shorter duration of time.
This landed a majority of banks in the asset-liability mismatch problem. But thanks to HDFC's loan sanctioning criteria, it did not have to face the liquidity crisis unlike other banks, who were in constant scrutiny post the IL&FS crisis.
Apart from managing balance sheet really well, HDFC has equally made use of opportunities by leveraging technologies. In 2008, the Internet and mobile channels used was only 3%. Today in 2018 it has expanded to 85%, so one can imagine the kind of penetration it has created over the decade.
As and when internet and mobile channels has increased significantly, the percentage of branches has reduced significantly. The same goes for the percentage of branches which has significantly come down in the decade.
Besides organic growth, HDFC Bank also took the acquisition route, buying out Times Bank in 2000 and Centurion Bank of Punjab in 2008. This has helped the bank to increase its network and customer base.
In the bank's retail loan book, the auto-segment accounts for the highest share of loans at ₹66,011 crore, as per the latest data. Housing, gold loans and the unsecured segment (where lending is done without a collateral) such as personal loans and credit cards are also major contributors.
In fact, HDFC Bank has the lion's share of the credit card segment at 9.25 million outstanding cards at the end of July 2017. SBI, its closest competitor in the segment, has only 4.97 million cards. This clearly shows that bank has sufficiently handled concentration risk really well.
These are certain nuances where HDFC bank has gained an edge over other banks in terms of better management and better risk handling.
Also when RBI issued the notice of checking the health of various banks in terms of Gross NPAs and Net NPAs in 2015 and 2016, many large banks such as ICICI, SBI, Axis were under the lens of RBI for accumulating bad loans.
When it was a tough time for the competitors, HDFC sailed through the difficult test.
Looking at its consistency maintained throughout, RBI added HDFC bank into the elite list of lenders, which means that HDFC bank is now recognized as India's domestic systemically important banks (DSIB).
That means HDFC Bank will now be deemed "too big to fail", and its failure could be catastrophic for the country's financial system and economy. SBI and ICICI Bank were named to the list in 2015. As a prerequisite, each of the three banks has assets exceeding 2% of India's GDP.
The following financials will help us understand how year on year the revenues have been increasing of the bank and correspondingly net profit has been increasing: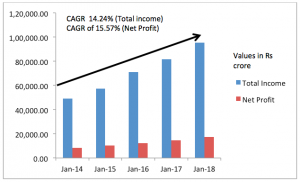 As can be seen from the graph, the compounded annual growth rate of net profit is higher than that of total income which is a good sign.
But if we actually see the growth rate of net profit year on year basis, we observe that it has declined in the past 2 years compared to previous years.
This is a matter of concern for the bank. Nonetheless, it is better as compared to its peers and hence it has still maintained its strong position.
All in all, we see that the bank is very diversified and disciplined in maintaining its position by smooth management and risk handling. And as an investor, it is considered as a positive sign for a bank showing this consistency.
It is quite commendable for a private bank in India to have a precise acumen and sound far sightedness to invest in those assets which help in value creation and good asset quality.
Disclaimer: the views expressed here are of the author and do not reflect those of Groww.