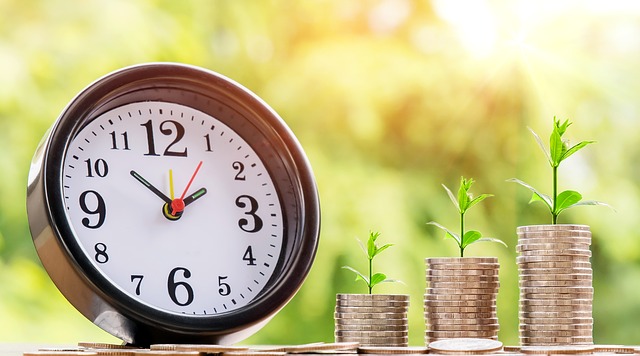 How much can you make if you invest Rs 50,000 for twenty years?
To answer the question, let us first take some assumptions.
The assumption is related to the profile of the individual (investor) that shall help us arrive at a risk appetite.
Assume the investor in this situation is 30 years old and is a salaried individual working with a multi-national firm. He/She is married and has no kids currently. The individual is looking to create wealth in two decades and is not likely to withdraw any money before the tenure.
What Should the Approach Be?
The investor, in this case, is looking for wealth creation and has a long-term investment horizon. Also, age is in his/her favor, and thus, his/her risk-taking ability will be high.
In this situation,mid-cap and small-cap funds purely can be of help, to reach the desired goal. The investment in small cap is capped at 40% whereas the remainder is allocated in mid-cap.
| | | |
| --- | --- | --- |
| Category | Fund | Share |
| Mid Cap | Kotak Emerging Equity Scheme | 30% |
| Mid Cap | L&T Mid Cap Fund | 30% |
| Small Cap | HDFC Small Cap Fund | 20% |
| Small Cap | L&T Emerging Businesses Fund | 20% |
By investing Rs 50,000 per month one time, he could look to accumulate Rs.19.16 lakhs in twenty years with 20% annualized returns.
We have taken a weighted average of the return of each fund after considering the lower of the 3-year and 5-year return as the return over the 20-year period.

Now, let us check out some traditional options:
1.Public Provident Fund / Provident Fund
Public Provident Fund (PPF) scheme is a long-term investment option backed by the Government of India. The instrument offers safety with an interest rate in the range of 8-9%.
The returns are fully exempted from tax. The deposit scheme comes with a lock-in period of fifteen years and can be extended further in multiples of five years.
Considering 8% returns, an investment of Rs 50,000 can fetch you Rs 2,33,051 in 20 years.

Limitations of PPF/PF
Low liquidity
Low actual returns when considered with taxes and inflation
Not suitable for long term wealth creation or investors with a high-risk appetite.
Fixed Deposit
A fixed deposit is a financial instrument provided by banks or NBFCs which offers investors a higher rate of interest than a regular savings account, until the given maturity date.
Considering 9% returns, an investment of Rs 50,000 can fetch you Rs 2,80,220 in 20 years.

Limitations of FD
Low liquidity if opted for tax saver deposits
Low actual returns when considered with taxes and inflation
Not suitable for long term wealth creation or investor with high-risk appetite
Mutual Fund Beats Traditional Instruments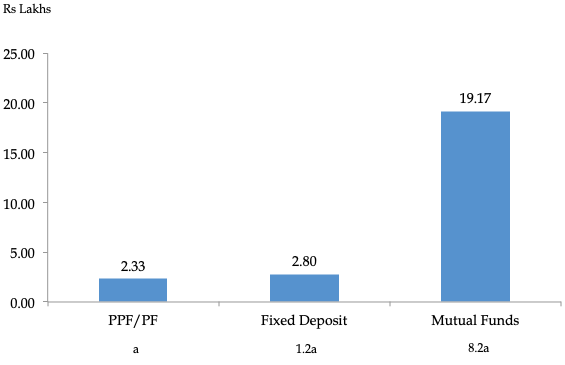 As you can see from the chart, the corpus from a mutual fund is way higher than fixed deposits and PPF/PF. Mutual funds generate 8.2 times more wealth than what is accumulated in PPF/PF.
Thus, for the long-term horizon, you should always opt for mutual funds given the wealth generation capability.
Now, let's get to the funds that you can consider investing in to build a corpus like the above.
Let's check out these 4 funds in detail
This fund seeks to generate long-term capital appreciation by investing in equity and equity-related securities of mid-sized companies.
Key Details

The fund seeks to generate capital appreciation by investing primarily in mid-cap stocks. The fund aims to invest in companies whose market capitalization is between the highest and the lowest constituent of the Nifty Free Float Midcap 100 Index.
Key Details

Let us now move to the small-cap funds. These funds invest in small companies and come with higher risk and higher returns.
The fund seeks to generate long-term capital appreciation from an actively managed portfolio of equity and equity-related securities including equity derivatives of small-cap companies.
Key Details

The fund seeks to generate long-term capital appreciation from a diversified portfolio of predominantly equity and equity-related securities, including equity derivatives, in the Indian markets with key focus being on emerging companies (small cap stocks).
Key Details

Why Do Investors Prefer Mutual Funds?
Mutual funds are handled by professionals
Less volatile compared to the stock market due to a well-diversified portfolio
Can be aligned to your risk appetite
Conclusion
You don't need to be a financial pundit to invest in mutual funds. On the contrary, a mutual fund is actually suitable for those who don't really understand investments.
Given the fact that professionals manage the fund; it is an ideal investment instrument for people who either have no knowledge or have no time to go through the intricacies of the functioning of a fund.
Also, there is a misconceived notion that one should invest a significant amount of money to earn substantial returns. You can start investing with a small amount of Rs. 500 per month, through Systematic Investment Plan (SIP).
You can also increase this amount, depending on your increase in savings or income. Besides inculcating a habit for savings, there are other benefits of SIP as well, such as convenience, flexibility, disciplined approach, rupee cost averaging and the power of compounding.
Lastly, remember a mutual fund is not only about equities.
Around two-thirds of the assets under management of mutual funds are in debt instruments. And not just debt, investors can invest in hybrid funds as well, which is a culmination of debt and equity.
You can consider the mutual fund industry to be a shopping mall where there are different types of shops that offer different products.
Thus, as final words, we say that its time you give yourself and your family a financially stable lifestyle. Think Big, Think Mutual Funds!
Happy Investing!
Disclaimer: The views expressed in this post are that of the author and not those of Groww
Investment in securities market are subject to market risks, read all the related documents carefully before investing. Please read the Risk Disclosure documents carefully before investing in Equity Shares, Derivatives, Mutual fund, and/or other instruments traded on the Stock Exchanges. As investments are subject to market risks and price fluctuation risk, there is no assurance or guarantee that the investment objectives shall be achieved. NBT do not guarantee any assured returns on any investments. Past performance of securities/instruments is not indicative of their future performance.