As investors, we have heard about the exit load that is deducted from our investment when we withdraw or redeem mutual funds.
The asset management industry has seen several key reforms in the recent past, such as the recategorization of mutual funds, the introduction of TRI (Total Return Index) as a benchmark for most mutual funds, the cap on expense ratios etc.
Therefore, we can truly say that the regulatory bodies are doing their best to make this form of investment seamless and efficient for investors.
In a recent announcement, Franklin Templeton AMC, one of India's top 10 AMCs in terms of AUM (Assets under Management) has come in with a policy to abolish the exit load charged to investors switching from regular to direct plans of its open-ended funds.
This effect will be applicable from 9th May 2019. So this investor friendly move has been brought in by an AMC to promote investors to shift from regular to direct funds.
Note: Exit Load is defined as a percentage of investment that is deducted if we redeem our investment before a prescribed period.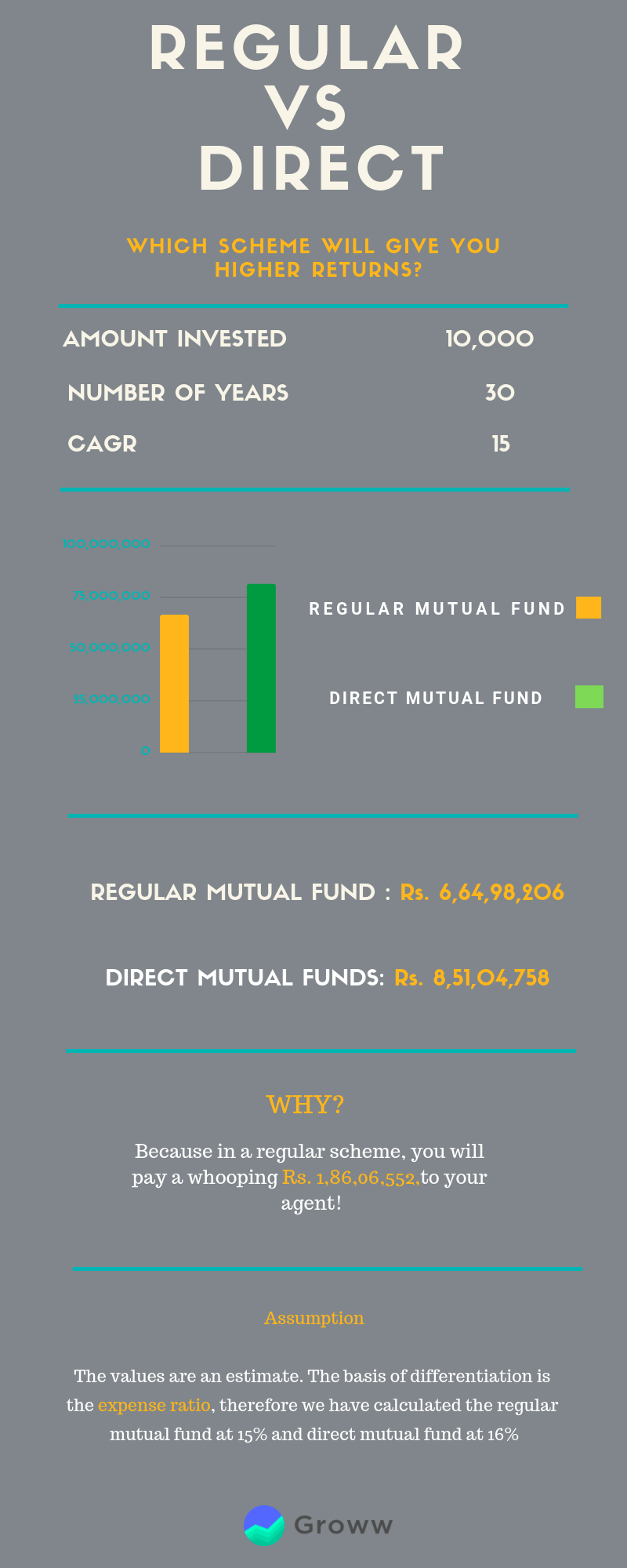 Regular vs. Direct Funds
You must have encountered the terms direct and regular while dealing with mutual funds.
On a one to one basis, there are no differences between them except for one. In the case of regular mutual funds, distributor commissions are charged to investors which can range up to 1% in the case of equity funds and 0.5% in the case of debt funds.
Though at first instance this looks to be very small in percentage terms, if we plan to invest our money for long periods of time, then this small percentage takes big shape.
Added to that is Albert Einstein's quote, "Compounding is the eighth wonder of this world". Meaning the returns can be huge over long periods of time.
If you want to buy a direct plan, you can do it yourself without the advice or assistance of any distributor, thereby saving you from paying them a commission on a regular basis.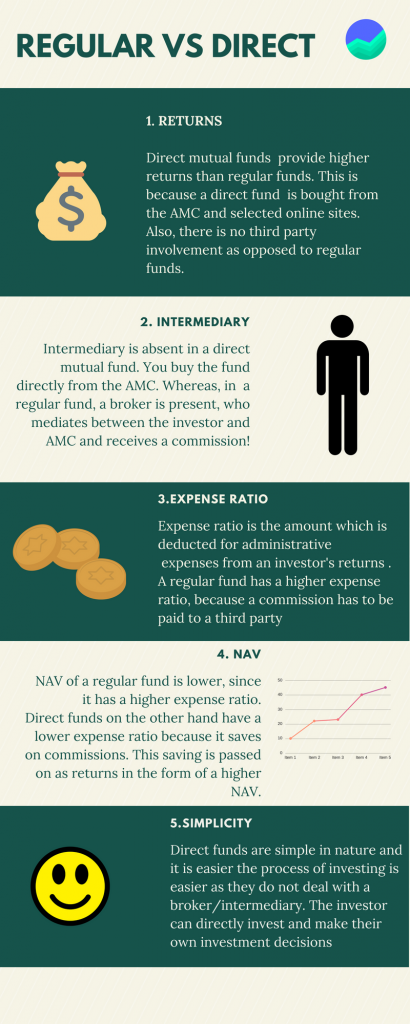 The introduction of direct plans traces back to 2013 when SEBI (Securities & Exchange Board of India) came out with a diktat that made all mutual fund houses offer direct plans.
At the same time, it brought in a new category of advisers called the registered investment advisers (RIAs) who could charge fees on mutual funds, but not distributor commission.
As the number of mutual fund investors in India is too small and those having knowledge of direct funds is also very less, this move along with several companies dedicated to providing only direct mutual funds might make an impact.
Several other mutual fund houses might follow the same. However, this might not be expected from small or mid-sized AMCs which are hugely dependent on distributors for the sale of their products.
As per data from AMFI, only 17% of the assets of individual investors were invested in direct plans as of March 2019. This number might go up if other big mutual fund houses follow the footsteps of Franklin.
The Move by Franklin
The step by Franklin AMC can be considered bold and in congruence with keeping the investor's preference at the top.
Many a time exit loads act as a key determinant, because of which, many investors do not switch their investments. However, this move will put more money in the hands of the investors.
The distributors, on the other hand, will have to bear the brunt of this step. This might further accentuate other fund houses to follow suit.
Distributors claim that Franklin Templeton AMC is noted for its investor first approach. This is also reflected in the past when Franklin started offering an all-trail commission that was later made compulsory by SEBI.
What Should You Take Note Of?
Though this move might induce many of us to switch to direct plans, we must be very mindful of the possible tax implications if we were to convert to direct funds.
For that let us look at the tax structure on mutual funds. In the case of equity funds, there is a 15 per cent tax on a holding period of one year or less which is known as short term capital gains.
If the holding period is more than a year and gains are above INR 1 lakh, the applicable tax rate is 10 per cent.
This is known as long term capital gains tax.
In the case of debt funds, short term capital gains (three years or less) are levied based on our tax slabs whereas long term capital gains (more than three years), the applicable tax levied is 20 per cent (with the benefit of indexation).
Conclusion
Given the change that has been witnessed, investors taking into account their tax implications can opt to shift from regular to direct funds.
We can also wait and watch what other mutual fund houses have to offer before taking a call on their respective schemes.
Happy Investing!