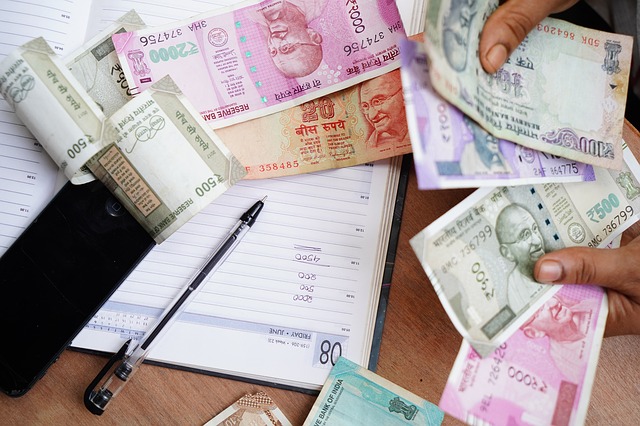 Everyone loves money, isn't it?
However, only a handful of them turns into billionaires and millionaires overnight while others adopt a conventional way of saving and earning money.
Decades ago, only a handful of avenues were available to people who wanted to save/invest money. Gone are those days and today, you have a plethora of opportunities to save.
Right from the stock market, to mutual funds, to the new age bitcoins, there are various avenues open to people who want to invest.
In this blog, we seek to discuss one of the traditional methods of investment – fixed deposits.
Read on!
What Is a Fixed Deposit?
A fixed deposit is a savings scheme in which you deposit an amount (principal amount) for a fixed tenure and generally at a fixed interest rate.
Once the deposit matures, the investor gets the principal amount along with the interest earned on it over the mandate.
Why Fixed Deposits?
A fixed deposit is one of the safest instruments available for investment.
The safety is because the returns in a fixed deposit are guaranteed once the tenure is over.
A lot of people believe that, while investing in a stock, you may generate high returns, but it comes with the risk of losing money in case the capital market crashes.
But on the other hand, if you are investing in fixed deposits, you may get low returns, but the assurance of receiving interest is there. The interest on a fixed deposit can be computed on a monthly, quarterly or annual basis.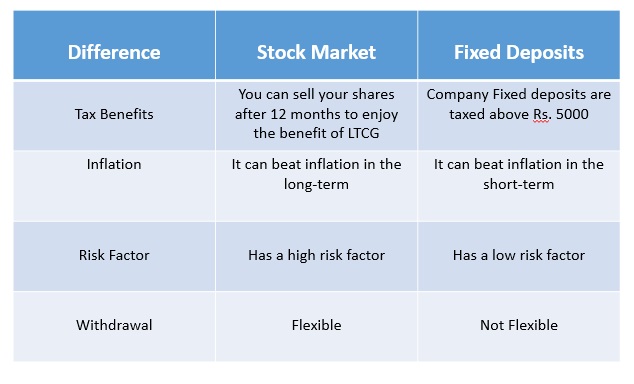 Benefits of Fixed deposit
1. Higher Returns over a Savings Account
A fixed deposit yields a higher interest rate as compared to a regular savings account.
The interest rate is high due to the fixed period for which the investment is made which is typically not the case in case of a savings account.
2. Handy During Crisis
During the financial crisis, fixed deposits come to your rescue. An individual prefers using a fixed deposit rather than taking a personal loan in times of crisis.
Personal loan costs anywhere between 11-13% whereas fixed deposit fetches only 7-8%. Thus, it makes sense to use the fixed deposit as the cost would be low.
3.Flexibility
Fixed deposits are relatively flexible. An individual can deposit any amount of his/her choice. Also, the tenure of investment can be selected depending on the requirement. For example, the mandate of a fixed deposit can range from 7 days to 10 years.
While very short-term duration provides a liquidity cushion, the long-term term empowers an individual to save for the future. Also, fixed deposits can be broken should there be an emergency.
4.Loan Against Fixed Deposits
If you are looking for some quick cash and do not wish to break your FD (assume you have a tax saver FD with a maturity of five years).
Under this circumstance, you can get a loan against your FD. This facility doesn't compel you to break your FD. Under loan against FD, a bank can provide credit up to 85-90% of the value of your FD.
The process of availing loans against FD is straightforward and hassle-free and can be done using internet banking for most of the financial institutions. The documents required for the loan against FD are –
Application form
Signed agreement
Fixed / Term Deposit receipts duly discharged in favor of the bank
Read about the impact of the credit rating on fixed deposits here.
Alternative Options Today?
Today, there are various alternative options like mutual funds and stocks that people prefer investing in instead of fixed deposits.
Mutual funds
A mutual fund is an investment instrument, basically a collection of stocks and/or bonds, managed by professionals of an asset management company.
Investors will put their money in different types of mutual fund units depending on their risk appetite and duration of the investment.
The best thing about mutual funds is that they enable you to invest in very small amounts. Do many people ask what is the minimum amount to invest in mutual funds?
There is no other way you can invest with reasonable diversification with an amount as low as ₹ 100 and even ₹ 50. SIP ( Systematic Investment Plans) of a lot of mutual funds allow min investment with just ₹ 100 and ₹ 500.
Stocks
Stocks or direct equities are a way to invest directly in a company's shares. Stocks give extremely high returns but the are comparatively more volatile than mutual funds.
In today's dynamic world stock is one of the most popular investment options and millennials are slowly moving towards trading.
Happy Investing!
Disclaimer: The views expressed in this post are that of the author and not those of Groww