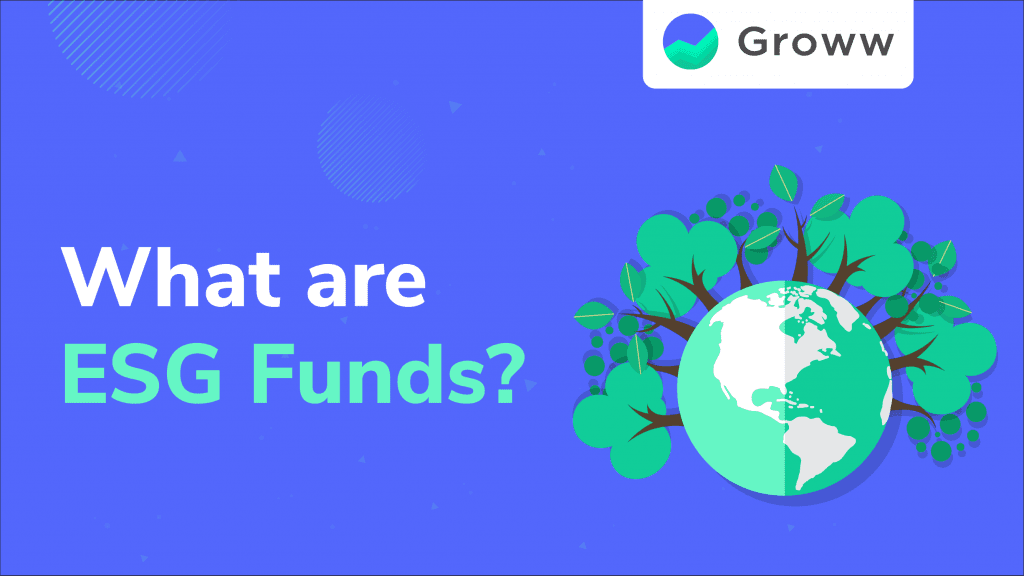 ESG stands for Environmental, Social and Governance. Any company which is doing well today and hopes to sustain this progress in the future will be mostly compliant with ESG. ESG funds are portfolios that invest in equities, bonds of companies that are assessed on environmental, social and governance factors.
These companies or shares pass through stringent tests on sustainability to meet the ESG criteria.
ESG factors provide insights into the quality of a company's management, culture, risk profile, and other characteristics.
If you are someone looking to invest in companies that have sustainability agendas and are environmentally conscious, ESG funds are for you. In this article, I will cover more about what you should know about ESG funds as an investor. Read on!
Breaking Down ESG 
A company is called ESG compliant if it satisfies all the conditions of environmental, social and governmental benchmarks. ESG funds assess these companies strictly and only select shares of companies for the portfolio that are ESG compliant in the true sense. 
1. The E of ESG
E stands for the Environment., essentially aiming towards preservation and conservation of natural resources.
India is getting more serious about climate change and pollution control than ever before, a company that has  best practices when it comes to the protection of the environment around its factories and places of work is less likely to be impacted by regulations that could force plant shutdowns, etc. as compared to those which do not regard the impact their business has on the environment.
Besides regulatory, it is imperative for businesses to adopt greener practices while operating for the sustenance and upkeep of the environment and our resources for future generations as well.
It is safe to say, that companies that are "E" conscious not only have a good cause at heart but also remain shielded from regulatory misconducts and hence show good potential. 
2. The S of ESG
S stands for social. At the core of any business are its people. Companies that are socially developed treat their employees with the utmost respect and takes care of their wellbeing.
For instance, employee safety, measures against occupational hazards, fair treatment of all genders, etc, is what a socially conscious organization demonstrates.
Apart from improving the work-life balance of their employees, socially responsible companies also extend their goodwill to various socio-economic causes, by means of CSR initiatives. Needless to say, socially responsible companies garner a lot of appreciation and trust from employees and other stakeholders alike. 
3. The G of ESG 
G is for Governance. This is the base, the foundation by which the company is judged. However, merely following GAAP standards and meeting checkboxes on audits, do not qualify a company to be compliant with regards to governance.
What it means is that when it comes to financial disclosures, the company is ethical and transparent and can uphold the highest standards of governance consistently. Since they take governance seriously, they remain unaffected by any regulatory reforms, no matter how tough they are. Investing in such companies, for you as an investor, thus becomes safe to a large extent. 
ESG and the Global Market
Globally, ESG investing has gained ground with over a quarter of the total $22.9 trillion assets managed globally coming under socially ­responsible investment.
Bonds such as green bonds (bond to fund energy-efficient projects), blue bonds (bond to fund marine protection), environmental impact bonds and ESG ­themed exchange-traded fund (ETF) have been launched in the past decade.
ESG And The Indian Market.
Talking of Asia and India, the growth in Asia has remained impressive at 32% whereas, in India, a rising interest in sustainability is seen due to multiple factors.
These factors are categorized as push or pull factors.
1. Push Factors
Factors such as regulatory requirements including mandatory business requirements are push factors.
For example, regulatory requirement such as top 500 companies by market capitalization is required to drive the investor's interest.
2. Pull Factors
These factors include certain phenomena, such as increasing foreign investor interest. Foreign institutional investors are increasingly moving their portfolios towards companies that have sustainable businesses.
With the corporate government governance issues on the rise, the Indian is likely to show high adoption towards ESG investing. Moreover, for India, governance takes priority over social and environmental aspects since minority shareholders stand to lose in the absence of governance.
Thus, pressure from the investors' community is likely to prompt companies to change and become more ESG compliant before regulations kick in.
ESG Funds in India
If you are looking to invest in India, you can consider investing in the following ESG funds
Future of ESG in India
One of the challenges that Corporate India has to contend with and will continue in the future (which is great for investors) is the fact that regulations are going to get stricter and adherence to them is going to get tougher. 
Be it environment norms or impact on society or actual accounting bells and whistles. The Regulators are going to come down hard on companies who flout the rules and penalize those who are out of line.
If the company adheres to the highest standards of E, S, and G then there is a three-fold advantage of investing in those companies;
They do not need to incur any additional costs and are on a safer wicket if the Regulator tightens norms.
An ESG compliant company can take advantage of the situation to increase market share while other non – compliant companies struggle due to violating strict regulatory protocol.
Being ESG compliant enhances the reputation of the company multi-fold – not only amongst investors – but customers and stakeholders alike.
That being said, ESG compliance by Indian companies is the only way to prosperity and continuity. The ESG arena is slowly gaining popularity amongst retail investors and therefore it could become big in the near future.
Happy Investing!
Disclaimer: The views expressed in this post are that of the author and not those of Groww