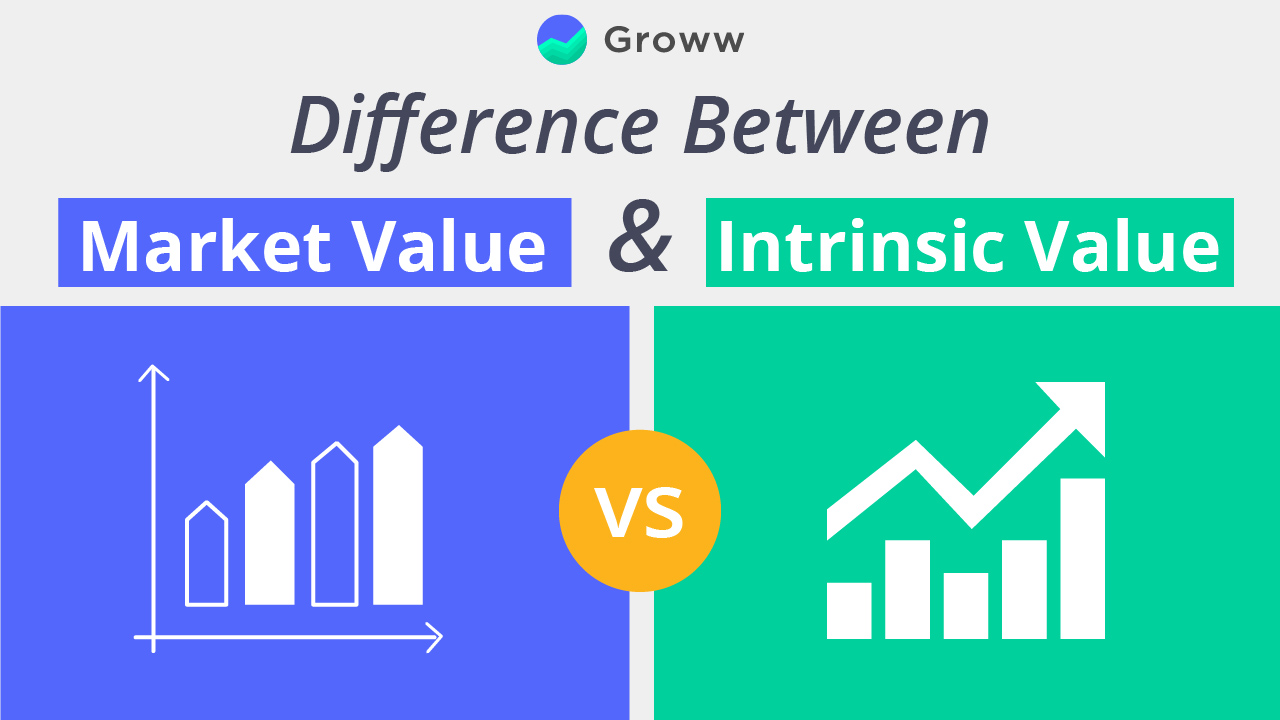 Before choosing to invest in a company, basic parameters to check include the market price of a share and corresponding market capitalization of the company. Investors often go through other technical analysis variables, such as moving average lines, stock charts, etc.
These figures gauge predictions regarding  stock market fluctuations, helping investors identify any external risks to the total corpus invested. Conducting internal analysis depicting internal management and cash flow of a company is equally important in this respect, as it reveals any systematic risk present.
While market value helps us evaluate fluctuations of the stock market owing to external factors, looking into the intrinsic value of a company helps us understand the value of the total investment in absolute terms. 
But first, let us look into the meaning of these two values to understand their significance. 
What Is Market Value?
Market value (also known as market capitalisation) of a company reflects the current valuation of a business in an economy, calculated by multiplying the number of shares available in the market with respective prices of stocks.
Market capitalisation = Number of outstanding shares x Price of each share
Such valuation is heavily dependent on the current demand of a company's shares in the stock market, as a significant determinant of market capitalization is the price at which issued shares are trading. 
Even though it is one of the primary factors checked by individuals before investing in a company, it is not an ideal parameter, and hence, often runs the risk of misrepresenting the real value of a company. Shares are often undervalued or overvalued in a market, which, in turn, might lead to a faulty market capitalization figure.
How Is It Different From The Intrinsic Value Of A Stock? 
While market value factors in external fluctuations in the form of stock prices, intrinsic value is analysed by experienced investors with an in-depth knowledge of the stock market, as it reveals the true profitability rate which is expected to be realised through an investment venture. Nevertheless, calculating the same is often complicated, as it contains both qualitative and quantitative figures. 
A quantitative aspect of the same can be analysed by determining the weighted average cost of capital (WACC), wherein the value of the capital structure is segregated into debt and equity aspects in their stipulated percentage. WACC reveals the total cost of borrowing of a company in accord with returns realised in one financial year. Thereby, a higher WACC reveals a lower chance of returns generated by such companies, implying that such investments might not generate adequate profits.
A similar approach is used while creating cash flow models of business. The intrinsic value of a company can be analysed by obtaining the discounted value of the current investment, which, in turn, reveals the projected returns. 
If a projected return value is higher than the prevailing share price of a company, the business is likely to generate substantial profits in the future. On the other hand, discounted cash flow values lower than share price indicates the possibility of incurring a loss on total investment. 
An intrinsic value of stock also contains qualitative variables, such as management team, internal regulation, efficiency, transparency, etc. 
Let's see an example. 
Suppose a company ABC has 1,00,000 shares available in the market, with a current stock price of Rs. 12 per share. Hence, total market capitalisation value stands at Rs. 12 lakh and is subject to changes as per fluctuations in the share prices listed in a stock exchange. 
Now, assume the demand for such shares rise in the market for any external reason, such as talks about upcoming new government policies aiming to provide subsidies to all companies operating the respective sector, or a probable reduction in corporate tax. A rise in the demand for such shares of ABC can be anticipated, which, in turn, would push up the share price in the market. Supposing the market value of shares rises to Rs. 15, new market capitalisation value stands at Rs. 15 lakh. 
Thus, any positive speculation may raise the stock's market value, without any underlying hint of enhanced performance. This implies the risk of overvaluation (undervaluation in case of negative speculative news) of shares.  
Now consider the intrinsic value of company ABC. Assuming the company has a weighted average cost of capital at 15%, and return rate stands at 20%. This implies the company has a profitability rate of 5% in absolute terms (18-15%). Thus, you can consider acquiring an equity stake in ABC, as you can expect a 5% real growth of total portfolio investment amount. 
Which Is More Important?
Before undertaking any investment venture, analysing both market capitalisation value, as well as intrinsic figures, is crucial. While comprehensive technical analysing through market capitalisation helps you rule out all unsystematic risks of investment associated with a fluctuation of the stock market, fundamental analysis is required to understand the relative strength and potential of a company. 
If you have a short term investment regime in mind, go through stipulated technical analysis pointers carefully to identify and tackle any market risks associated with your portfolio. On the other hand, long term investment requires an in-depth analysis of the fundamentals of a company, as it reflects the rate at which a business can grow, and thereby the rate of return on equity investment. 
Analysis of intrinsic value of a stock is crucial if you plan on pooling your money in lesser-known small and mid-cap companies, as investors often run the risk of falling into a value trap.
To Sum Up, 
Understanding the significance of both market value and intrinsic value of a stock will help investors look into the same before undertaking any substantial investments. Though most people assume the stock market to be complicated and unpredictable, knowing which aspects to look for will help you rule out any unforeseen risks on total investment, ensuring high return generation. 
Happy Investing!
Disclaimer: The views expressed in this post are that of the author and not those of Groww.
Investment in securities market are subject to market risks, read all the related documents carefully before investing. Please read the Risk Disclosure documents carefully before investing in Equity Shares, Derivatives, Mutual fund, and/or other instruments traded on the Stock Exchanges. As investments are subject to market risks and price fluctuation risk, there is no assurance or guarantee that the investment objectives shall be achieved. NBT do not guarantee any assured returns on any investments. Past performance of securities/instruments is not indicative of their future performance.