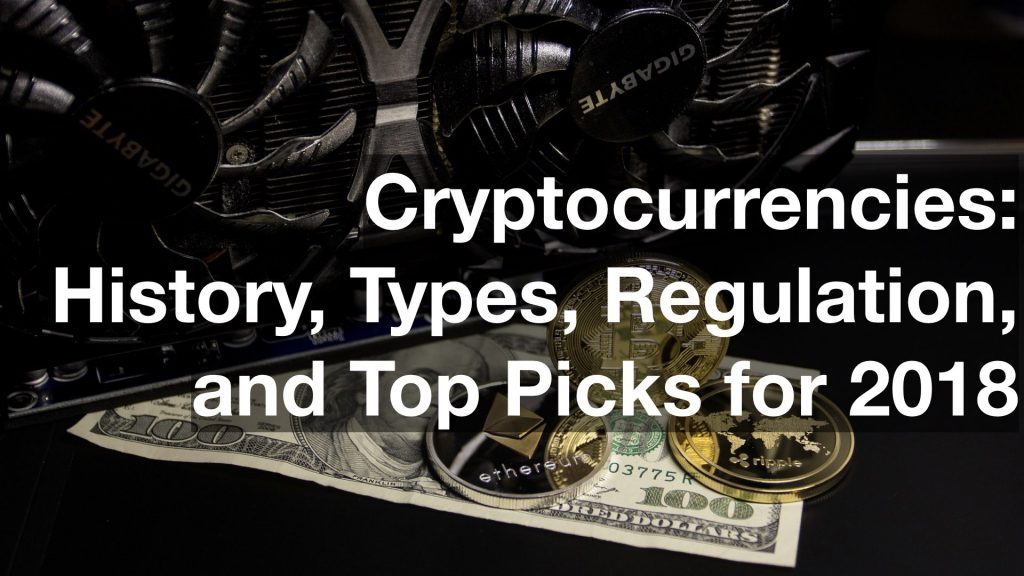 From being an inexistent phenomenon just a decade ago, Bitcoin and cryptocurrency has a very long way till today. The history of Bitcoin is nothing short of unbelievable.
In this article, we explore all about the history of cryptocurrency, the types, regulations affecting cryptocurrencies, and top picks for 2018.
Bitcoin – Arrived in 2017
Bitcoin has not just been an invention of new technology of decentralized ledger but a huge creator value for early believers.
2017 was a big year for cryptocurrencies especially Bitcoin. It started with 2017 with $959 in value and $15.4B in Market Cap and closed 2017 with $12,618 and $211.6B in Market Cap.
That's basically 13x in a year (actually would be 15x if we look at next day). That's unprecedented growth that too at such a huge scale of $200B+. 2017 had been a boom year but I expect 2018 to be sane.
From this I am pretty convinced that cryptocurrencies especially Bitcoin has arrived and its here to stay. It might be overvalued but its something that you can neglect as an investor.
Bitcoin proclaimed to be digital gold for millennials. Its not bad comparison as gold also has minimal real value and more of a perceived value like Bitcoin.
Even if 5-10% of the gold buyer starts looking at Bitcoin as an alternative, it would be a huge success.
Types of Cryptos
There ~1,500 cryptocurrencies now with Bitcoin just being one of them. Let me try to classify them based on their use-cases.



Digital Gold (Asset Class)
These are crytos that started as currencies but now due to inefficiencies in their blockchain and trust in them is converting them to Asset Class (store of value) like gold.
Top examples of this category are Bitcoin, Bitcoin Gold and Litecoin. Not many contenders for this category and my bet personally is on Bitcoin.



Real Decentralized Cryptos
This was the real reason crypto-currency Bitcoin was invented by Satoshi Nakamoto in 2009 was create an alternative for money which controlled by banks to make it into a trusted decentralized system not owned by anyone.
Due to multiple limitations, Bitcoin became difficult to use for this purpose. Top examples of this category are Bitcoin Cash (BTC) created with variation to Bitcoin, Dash (earlier known as Darkcoin), Litecoin is part of this also, Monero (for private transactions).



Institute's Cryptos
New category which emerged with launch of Ripple getting lot of early traction due to support from traditional institutes like Banks, Credit Card companies, etc.
The main purpose of this is to replace decades old ledgers with blockchain to create more secure and efficient systems.
Recently, Venezuela government announced that its going to launch its own currency and Reliance announced that its going to launch JioCoin. Both will fall into this category. Top examples include Ripple and Stellar.



Blockchain Fuels
Fastest growing category of cryptocurrencies, its basic use-case is to outsource blockchain technology.
If any anyone wants to start doing their contracts, do ICO, etc can instead of building and maintain blockchain they can use one of these platform to build their applications.
They use their own issued currency as payment for their services like transaction, etc. So, you build your app on their platform and buy their currency to keep it running.
Ethereum was pioneer in this and largest today with market cap of $130B. Top examples are Ethereum, Cardano, NEM, NEO, IOTA (only for IOT devices), EOS, etc.



Asset Cryptos
This last and most important category is guys who are using blockchain platforms to digitize the particular asset and selling them to investors.
For example, a car rental company can sell their cars under ICO and each subscriber to this ICO will own the portion of the car and hence get part of the revenue. It's like doing an IPO of an asset with minimum effort.
Regulations & Cryptocurrencies
Hope this gives decent idea about type of cryptos. Lets now talk about regulator changes in these.



China's crackdown on crypto-exchanges
In early 2017, China's top three cryto exchanges OKCoin, Huobi and BTCC were given a warning to stay complaint by People's Bank of China. In Feb, it froze withdrawals and creation new trading fees to curb money laundering and returning the access in May.
In Sep, it ordered to close all crypto-exchanges in China with few of them shift to peer to peer over the counter trading based out of Hong Kong. As per China's media, that also will be closed soon.



US SEC Announcement to regulate ICOs
SEC declared that US securities laws could be applied to some of tokens. Token issued for The DAO where one such tokens (the funding model where funds will be used to work on new blockchain network). The DAO went defunct due to bug which led to hard fork on Ethereum.
SEC warned about celebrity endorsed ICOs and public-stock scams that use ICO funding model at tactic to entice investors. Post which, it pursued multiple lawsuits against ICO organizers.
Russia has open stance to create regulations
Russia seems to be most advanced stage in creating regulations for cryptocurrencies.
It may soon approve regulations for trade and issuance of cryptocurrencies with support from president Putin. It will include rules on registration requirements for cryptocurrency miners, the application of securities laws to the initial coin offering (ICO) funding model and research into how the tech could be used as part of a digital payments ecosystem in the Eurasian Economic Union.
Russia even wants to use blockchain for public sector and asked government officials to begin researching uses of blockchain.



India's stance remained negative but more clarity soon
India became one of top cryptocurrency trading market recently felt lot of shock from the regulator.
All top cryptocurrency exchanges like Zebpay, Unocion, Coinsecure, Koinex, Buyucoin, etc was raided by income tax authorities for customers data.
After which, tax notices where sent to many investors. Both Finance minister and RBI repeatedly said that cryptocurrencies are not legal tender.
Recently, government has created a committee to fast track the process of regulating cryptocurrencies in India. The main concerns are money laundering and protection of common man.
What will happen to cryptocurrencies in 2018?
2018 will again be full of activity in cryptocurrencies but from returns focused investments it should shift to use-case focused investment.
This year will see even more regulations but I expect most of countries to come-up with a middle way. Where apprehensions of money laundering and protecting common man are taken care of and still cryptocurrencies will survive.
I think Bitcoin will not move significantly over a year but might see significant short-term gains and losses. My estimation of Bitcoin's value is based on its being a digital gold. With gold's total value at ~ $2T, I don't think Bitcoin can be more 10% (that too looks bit high). That's like 30% of gold investors putting 1/3 of their value in Bitcoin.
I think real crypto-currency battle is yet to be won and hence might see one of them taking leadership status and give good returns to its backers.
Institute's crypto also is in nascent stage with big mammoths still speeding on it. My guess is that the winner in this will be some new kid on the block, so watch out.
Etherum is a clear leader among Blockchain Fuels but this category can hold multiple currencies especially use-case specific ones like IOTA.
Asset Cryptos will not give huge returns until their underlying asset is awesome. In this category beware of shady companies and crazy valuations just because its doing an ICO
My top picks for 2018:
    

Dash
    IOTA
    JioCoin (If it gets regulatory approvals)
These picks are my personal opinion and nothing else. Please let me know if I missed any major category or cryptocurrency.
Happy investing!