How many of you invest via SIP?
I'm sure a lot of you.
The SIP (systematic investment plan) route to investing in mutual funds has gained popularity among retail investors in recent years and with good reason.
But as we already know, there are two sides to every coin. No doubt SIP's are the best way to invest, especially when it comes to equity funds.
But there are times when SIPs can disappoint you.
While investing via SIP is a good way, many are more familiar with the pros rather than the cons.
Lets see if the best mutual fund SIP's can disappoint you.
About SIPs
Mutual funds come with the option of Systematic Investment Plan (SIP).
SIP is a way of investing money in mutual funds at regular intervals. Most famous frequency is monthly.  With the benefit of rupee cost averaging, investing in mutual funds via the SIP mode becomes most favorable.
In an SIP, instead of a lump sum, the investment is done regularly on specific intervals either weekly, monthly or quarterly.
Here, you will divide your planned lump sum investment into 12 equal parts, say if you plan to invest ₹1,20,000 in March as a lump sum, in an SIP you will invest ₹10,000 per month.
Why should you invest via SIPs?
1.It is one of the best ways to invest and is a tested method of minimizing risk. Apart from this, you can enjoy good returns, by regular, periodic investment, over a long horizon
2.The obvious benefit of SIP is that it helps investors to average the rupee cost of a unit and thereby helps them to earn higher returns in the long-term.
3.It also helps them to invest in a disciplined manner no matters what the current market conditions are. SIPs enforce financial discipline without any effort
4.During volatile market situations such as right now, a SIP becomes a blessing in disguise for a common investor. As more units of the subscribed fund can be purchased at the corrected/ lower price. Thereby investors get their units at a lower average cost and therefore higher returns when the market situation improves.
Minimum SIP amount can be as low as ₹ 100, so that maximum people can start investing in mutual funds.
Under what circumstances can SIP's disappoint you?
An exception is always in place, no matter how good your investments are.
Sometimes, the best mutual funds do not give returns what you have expected from them and many times this leads to disappointment.
So, I would like to highlight few important points which may disappoint you even after doing SIP in best mutual funds:
1.Time of start and end an SIP
The entry and exit timing is very crucial factor for SIPs, if u have entered in the bear phase and exit in bull phase, then in all probability your returns will be good & vice versa.
Let me explain with an example.
Suppose you opted for a monthly SIP of Rs.1000 for a year, every month you will purchase units at particular NAV (Net Asset Value).
When you started the SIP, NAV was ₹40 and when you stopped the SIP NAV was ₹43.
During 12 months, NAV reached a peak of ₹48. For 12 months, your average NAV cost is ₹45.
Which implies market peaked during these 12 months and you purchased at a high rate, because of which your average is as high as ₹45, but at the end of the SIP, NAV is ₹43.
2.Insufficient cost averaging
Cost averaging is probably the biggest reason or the single most important selling point of SIPs.
Now think about it, by making monthly investments, you end up making only 12 investments per year.
It's next to impossible to achieve an accurate average by capturing the market only once a month.
You are going to miss dozens of market highs and lows that will take occur between your consecutive SIP installments.
If SIP were a bi-monthly, weekly or a daily regime, the cost of averaging would have been really good and certainly better than a monthly regime.
3.SIPs are not always the better alternative
There is a widespread misconception that SIPs are often better than lump sum or one-time investments.
However, there are periods when SIPs work, and when they don't. In rising market periods, lump sum investments work out better than SIPs.
Take this period between August 2014 and August 2017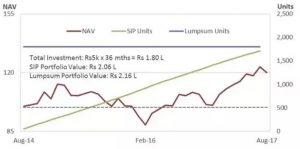 While this may initially seem like a good time for SIPs, as compared to a lump sum investment, it isn't.
As seen in the chart, there was only a small window of opportunity to lower your purchase cost when the market tanked in February 2016.
On the rest of the occasions, the SIP investments came in at a higher price. As the data shows, the lump sum investment did marginally better than SIP.
While SIPs are good at ensuring regular investments, they don't improve your returns compared to lump sum investments, in all kinds of market situations.
Deciding between lump sum investments and SIPs is a matter of assessing whether markets have higher downside or upside from your starting point.
While that is not easy, broad market valuations can be a good guide.
4.Less control
In a way, SIP is a rigid product.
How?
You are investing a fixed amount in a fixed mutual fund scheme, if you want to change the scheme or the amount, you need to stop the first SIP and start a fresh one.
For example, you start an SIP of ₹5000 every month. Now, after few months of investing, you want to increase your monthly SIP installment by ₹2000.
In such a scenario, you can't just add ₹2000 to your existing SIP plan. You have to start a fresh SIP in the same fund with ₹2000.
An investor cannot immediately change the amount being invested in response to the ups and downs in the market. This keeps the investor from taking advantage of the upswings.
5.Does not suit investors with an unpredictable cash flow
Think of someone who doesn't have a predictable cash flow like a self-employed professional. He won't be able to stop an SIP, as he would be unable to commit a fixed sum every month.
Conclusion
SIPs shield you from many harms. Some of them are short-term risks, short-term volatility, emotional and impulsive reactions, overspending and so on.
But remember, SIP is not a magical stick, so please do thorough homework before investing in any mutual fund or for that matter an  SIP. Timing of entry & exit is very important & only timing decides performance of your investment.
And yes, sometimes your mutual funds don't give returns that you have expected from them and many times this leads to disappointment.
So, I would like to highlight few important points to keep in view before investing through SIP mode:
Read how SIP and Mutual funds works.
Research on the sector and plans in which you want to invest
Analyze the performance, like monthly returns, annual returns and 5 years returns
Don't forget to see the rating of that Mutual Fund.
Visit your SIP account after 5 – 6 months to check its growth.
Also, not fall for the marketing gimmicks of such low-priced SIP options from different mutual fund vendors.
What you need to do is decide on the amount and the time horizon for which you want to invest and select an SIP option for investment as per your investment goals.
Investing in mutual funds online is very simple and paperless. Simply log in to your Groww account, choose a fund, and invest using net banking – exactly like you would when shopping online.
To look at some of the best performing funds from every category of mutual funds, check out Groww 30 best mutual funds to invest in 2018.
Happy Investing!
Disclaimer: The views expressed in this post are that of the author and not those of Groww