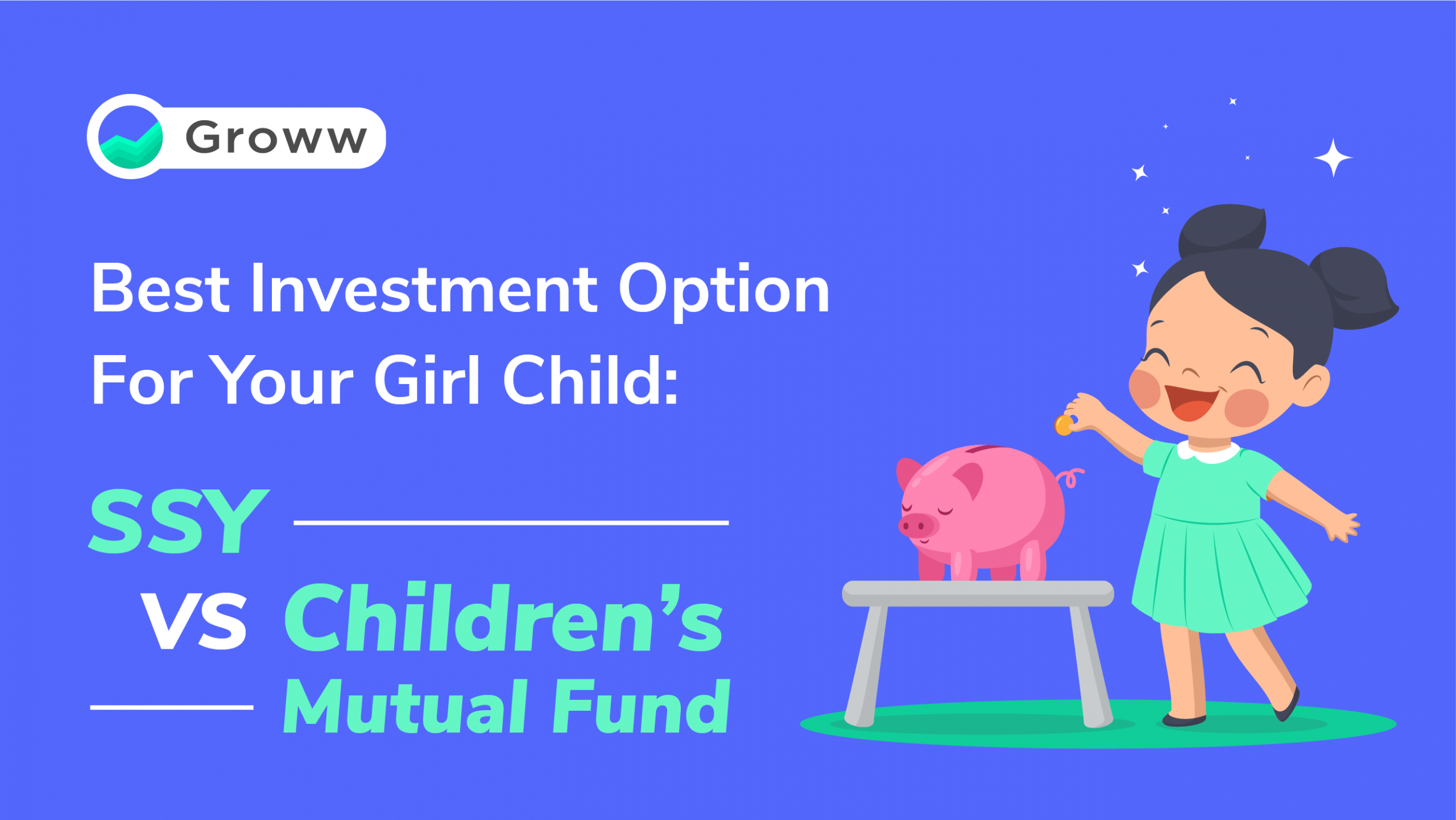 When planning to secure the financial future of your daughter, there are many investment options you can explore. In this blog, we will be talking about the popular government-backed scheme called Sukanya Samriddhi Yojana, and children's mutual fund plans , that are slowly gaining popularity. We will compare the pros and cons of both under certain parameters so that you are able to take an appropriate decision. Read On!
A Brief Introduction To Sukanya Samriddhi Yojana
The Sukanya Samriddhi Yojana (SSY) is a comprehensive savings scheme, introduced by the Government of India, as a part of a campaign to check the declining child sex ratio in the country. According to the population census of 2011, India's child sex ratio stood at 919, which was lower than that of 2001's 927. 
To address this issue of declining child sex ratio, the government introduced several social and financial schemes under the "Beti Bachao Beti Padhao" campaign, with SSY aiming to provide financial aid for a girl child's higher education and marriage. 
However, while SSY provides parents with an opportunity to gather a significant corpus for their girl child's future finances, the scheme only allows for limited returns from investment. That is why it might not always be the best investment plan for a girl child in India. 
Parents seeking other alternatives can also consider investing in Children Mutual Funds to maximize their benefits from it. 
But before delving further into Sukanya Samriddhi Yojana vs Children Mutual Funds in regards to being the most beneficial scheme to build a corpus for a girl child, it is crucial to understand the different features of each scheme and the benefits offered.
Following are its features and the benefits offered by it – 
How is the account operated?
Parents or guardians of a girl child below 10 years of age can open an SSY account.

The child will be mandatorily shifted the operating power of said account when she reaches 18 years of age.

The benefits of SSY can be availed by a girl child, who is an India resident, from the time of account opening until its maturity or closure.
Number of accounts that can be opened under this scheme –

 
There can be one account opened for each girl child.

Each family (parents and child) is eligible to have accounts for a maximum of two girl children (with the inclusion of adopted children).

A family is eligible to hold more than two SSY accounts only under special circumstances. For instance, if parents have more than two girl child in their first order of birth or one girl child in the first order and twins in the second-order, families can avail more than two accounts
Deposit limits and tenure – 
Individuals can choose to deposit a minimum amount of Rs. 250 and a maximum of Rs. 1.5 Lakh, every financial year, for a tenure of up to 15 years.

The deposit can be made in multiples of Rs. 100, adhering to the cap above. Thus, they accumulate a sizeable corpus making them one of the best investment plan for girl child in India. 
SSY will fetch an interest of 8.4%, compounded annually. For instance, if an individual chooses to deposit Rs. 1 Lakh with SSY scheme, the amount will generate an interest of Rs. 8400 at the end of this year. He or she will thus have a balance amount of Rs. 1, 08,400 at the end of this FY. 

The interest will be payable for a maximum tenure of 21 years from the opening of this account.
Tax Benefit

– Investments in SSY accounts are eligible for tax benefits under Section 80C of the Income Tax Act, 1961. The interest accumulated will also be exempt from taxation, along with the amount received on the maturity of the account.
Let us now see the features of Children Mutual Funds and how do they differ from SSY. 
Children Mutual Funds 
Children's Mutual Funds or children's gift funds are schemes under which investments can be made in the name of a minor child. Parents or legal guardians can invest in this scheme on behalf of their child and the gains acquired from these mutual funds can then be utilized to fund expenses like the child's higher education or marriage.
These children's gift mutual funds are categorized underbalanced or hybrid mutual funds.
These mutual funds are further divided into equity-oriented or debt-oriented hybrid Mutual Funds. Those with equity exposure of more than 60% are equity-oriented funds, and those with 60% or more debt exposure are known as debt-oriented Mutual Funds. 
Following are the features and benefits imparted by these Mutual Funds – 
These funds typically have a high lock-in period which helps to instill discipline in one's investment patterns. The gains from investing in these funds can be acquired after the child attains 18 years of age.

The equity-oriented hybrid or balanced Mutual Funds yield higher returns and thus help to maximize the benefits from the investment. However, investing in equity comes with risks. Debt oriented funds are comparatively more stable and yield moderate returns. Thus, as far as returns as concerned, equity-oriented hybrid Mutual Funds make for one of the top investment plans for girl children in India.

There are no tax implications on these funds until their redemption. The tax payable after redemption is also further reduced due to indexation.
Usually, these solution-oriented schemes come with variations in investment approaches to cater to investors with varied risk profiles. So conservative investors can opt for a higher debt portion and lower equity portion whereas aggressive investors can go for a higher equity part. However, if you have a moderate to high-risk tolerance and a long time horizon in place, an alternative to going with child plans is to go with a diversified equity portfolio for higher returns. 
Currently, fund houses like Axis Mutual Fund, HDFC Mutual Fund, SBI Mutual Fund, ICICI Mutual fund, UTI Mutual fund, and TATA mutual fund have such child plans and the average returns hover around the 8-10% mark ( depending on conservative or aggressive approach) 
Even though the benefits of these children's gift Mutual Funds are not limited to a girl child, they can be utilized to cover the finances of a girl child's education and marriage all the same. Thus, like SSY, these Mutual Funds also make for the perfect option to accumulate a corpus for a girl child's financial requirements.
Sukanya Samriddhi Yojana Vs Children Mutual Funds – A Comparative Analysis
When it comes to choosing the better option for accumulating a corpus, there are several advantages offered by each. 
The table below demonstrates a comparison between the two schemes, based on their features.
| | | |
| --- | --- | --- |
| Particulars  | Sukanya Samriddhi Yojana | Children Mutual Funds  |
| Account operation | The account can be opened by a girl child's parent or guardian and the operation of the same is handed over to the beneficiary after she attains 18 years of age. | Parents or legal guardians of a child can invest in these Mutual Funds and the lock-in period for them is typical until the child attains 18 years of age. |
| Returns | This investment attracts 8.4% interest and helps to provide moderate to high returns. | These Mutual Funds, especially equity-oriented ones help investors to maximize their returns from investment. |
| Limitations  | Each family can only have a maximum of two SSY accounts, except for under special circumstances. | There are no such limitations for this scheme. |
| Deposit threshold | Investors can make a minimum deposit of Rs. 250 and a maximum deposit of Rs. 1.5 Lakh for each financial year.  | There are no such limitations for these Mutual Funds, making them one of the plans better than Sukanya Samriddhi Yojana.  |
| Risk | SSY investments have no risks and provide stable returns. | Mutual Funds, especially equity-oriented ones come with the risks associated with the money market. That is why investors should have a comprehensive idea about their risk appetite before choosing to invest. |
Conclusion
Investing in both SSY and Children Mutual Funds has its share of advantages. While SSY offers tax exemptions and is backed by the government, child gift plans have the potential to offer higher returns. Child plans come with a lock-in ( scheme dependent) that can instill the necessary financial discipline you need to plan for your child's future.  However, if you have a risk appetite and time horizon in your stride, then you can go for a pure equity portfolio to meet your child's future financial needs. A good option would be assess your risk tolerance and the time horizon within which you want to accumulate the corpus to base your decision. To get the best of both worlds, you can divide the investible corpus for both schemes and have a more balanced portfolio. Judiciously weigh the pros and cons of each scheme and take the route which is in the best interests of your daughter. 
Happy Investing!
Disclaimer: The views expressed in this post are that of the author and not those of Groww
Investment in securities market are subject to market risks, read all the related documents carefully before investing. Please read the Risk Disclosure documents carefully before investing in Equity Shares, Derivatives, Mutual fund, and/or other instruments traded on the Stock Exchanges. As investments are subject to market risks and price fluctuation risk, there is no assurance or guarantee that the investment objectives shall be achieved. NBT do not guarantee any assured returns on any investments. Past performance of securities/instruments is not indicative of their future performance.