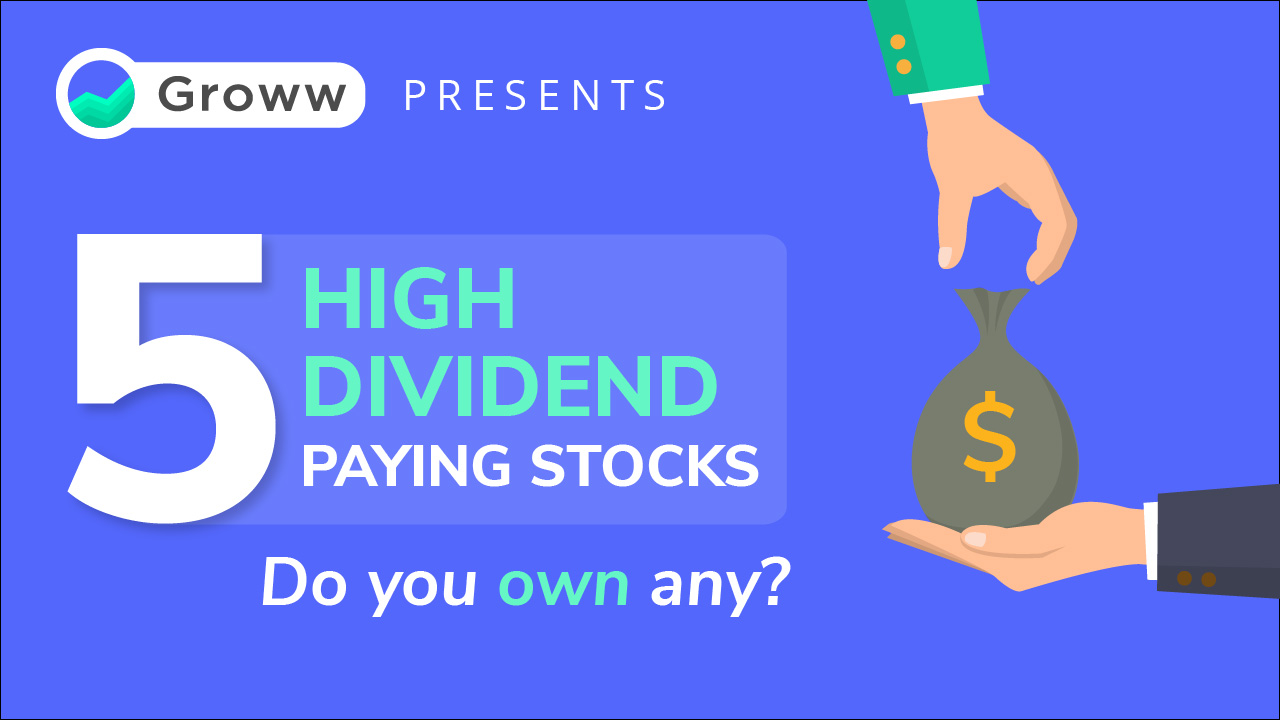 When you look for a stock to invest in, what particular factor are you most interested in? For some investors, it is the net profit that the company is earning, for others, it is the EBITDA and so on. 
Most people associate 'money-making' with stock investments. You invest in a stock at a specific price and then years later if the company grows in the right direction and the stock price appreciates, you can make good money if you sell it then. However, there is another way you can make money and that is through dividends.
When a company declares that it has earned profits in its quarterly results, it can give you a share of its earnings in proportion to the number of shares you hold. This is called dividends. Dividends are generally paid as per a single stock.
For example, a company may declare a dividend of Rs 10 per share for a specific period. If you held 1,000 shares in the time frame, you would receive Rs 10,000 as dividends. Some of the best dividend-paying stocks are regular with rewarding their shareholders.
However, there are two things regarding dividends that you should always keep in mind.
Discretionary: Dividends are discretionary. Companies are not legally bound to pay dividends to you. It is as per their will.
Not always out of profit: Mostly, dividends are defined as something that is paid out of profits. However, if a company wants it can also pay dividends when it is running losses. Like I mentioned earlier, dividend payouts are entirely discretionary and a company may pay them as and when they want to.
Parameters used to filter the companies
Dividend yield should be more than 1
Market capitalisation should be more than Rs 2,000 crores
We have considered the market price of the shares as on September 17, 2021 closing.
List of dividend-paying stocks in India 2021
Here are 3 companies that are going to pay dividend soon: 
Man Infraconstruction Ltd.
Man Infraconstruction is a Mumbai based company that provides construction services for port infrastructure, residential, industrial, commercial and road infrastructure projects.
The company has announced a final dividend of Rs 1.26 per share. The ex-dividend date is 13th October i.e., those who buy the company's shares on or before 12th October will be eligible for receiving the dividend. 
Check out more about the company here: Man Infraconstruction. 
Rashtriya Chemicals & Fertilizers 
Rashtriya Chemicals & Fertilizers Ltd. is a Public Sector Undertaking in India that is the fourth-largest fertilizer producer in the country. 
It has announced a dividend of Rs 1.78 per share. The ex-dividend date for Rashtriya Chemicals & Fertilizers' dividend is 20th October. 
Check out more about the company here: Rashtriya Chemicals & Fertilizers
Procter & Gamble Health Ltd manufactures and markets over-the-counter products, vitamins, minerals, and supplements products. 
It has declared a special dividend of Rs 90 per share and a final dividend of Rs 40 per share. 
The ex-dividend for both types of dividend is 2nd November 2021. 
Check out more about the company here: Procter & Gamble Health Ltd
Now that we know about the dividend-paying stocks in India let's delve deeper into concepts that will help you understand them. Read on!

What is ex-dividend date?
The ex-dividend date is the date by which you need to complete your purchase of shares. You need to purchase the shares on or before the ex-dividend date to be eligible for the dividend on the record date. It takes 2 days from the trading day for the shares to be credited to your Demat account. The record date is usually 1 to 2 days from the ex-dividend date.
Read more on Groww: What is the Significance of Record Date and Ex-Dividend Date in Corporate Actions?
Dividend Yield vs Dividend Payout
Dividend Yield: It shows how much dividend a company paid out in a year. The dividend yield is expressed as a percentage of the current market price. It gives you a sense of how much returns (in percentage) you have earned from your investment.
Formula – Dividend Yield: Annual dividend per share / current share price
Dividend Payout: Dividend payout tells us how much dividend has the company paid out from its net income. When a company earns profits, it either re-invests it back into the business or gives out dividends. Hence, it is the percentage of profits/earnings that it paid out as dividends. This is just another way to define the same concept.
Formula – Dividend payout: Annual dividend per share/ Net Income
Things to keep in mind
What do the ratios tell us: A very high payout or yield ratio would mean that a very less amount of profits is being reinvested. This can be derived easily from the formula. If the dividend is very high, this means the company is diverting lesser profit for reinvestment back into the business and more for dividend payouts.
Analysing dividends: These ratios should only be used to analyse the dividend payout situation of the company and should not be the sole reason for why you are or you are not investing in a company's stock. Even the highest dividend-paying stocks can turn out to be bad investments in future.
Yield ratio is dynamic: Share market price is a dynamic figure. It may change every second of a trading session. Hence, dividend yield varies accordingly as well.
Do not look at absolute dividend numbers:  Do not look at these numbers from a decision-making point of view. A Rs 100 per share dividend does not necessarily speak high of the company. Similarly, a Rs 10 per share dividend does not speak low of the company. The highest dividend-paying stocks are not necessarily good investments. You need to look at the company's earnings, the number of outstanding shares, shareholders and other metrics and this is where the ratios come into play. The dividend needs to be looked at in relation to the net profit.
Dividends and Net Profit
If you have followed us up till this point, you may have already gauged that dividends need to be seen in correlation with the net profits. Some of the best dividend-paying stocks of companies will use their profit judiciously. Rewarding shareholders is good but the profit needs to be strategically reinvested in the company so that the company can grow further in future and give you long term wealth creation on your investment.
Conclusion
These may be the top dividend-paying stocks in India but this should not be the only reason why you are picking a stock. At times, companies have also given dividends when they have been churning losses. There are a host of other factors you need to look at like profit history, business outreach, debt conditions, management quality etc. Take some time out for research so that you can take the right and informed decision.
Happy Investing!
Disclaimer: This article is only for educational and informational purposes. Investors are advised to invest in stocks after thorough research and based on their investment goals. The views expressed in this post are that of the author and not those of Groww
Investment in securities market are subject to market risks, read all the related documents carefully before investing. Please read the Risk Disclosure documents carefully before investing in Equity Shares, Derivatives, Mutual fund, and/or other instruments traded on the Stock Exchanges. As investments are subject to market risks and price fluctuation risk, there is no assurance or guarantee that the investment objectives shall be achieved. NBT do not guarantee any assured returns on any investments. Past performance of securities/instruments is not indicative of their future performance.