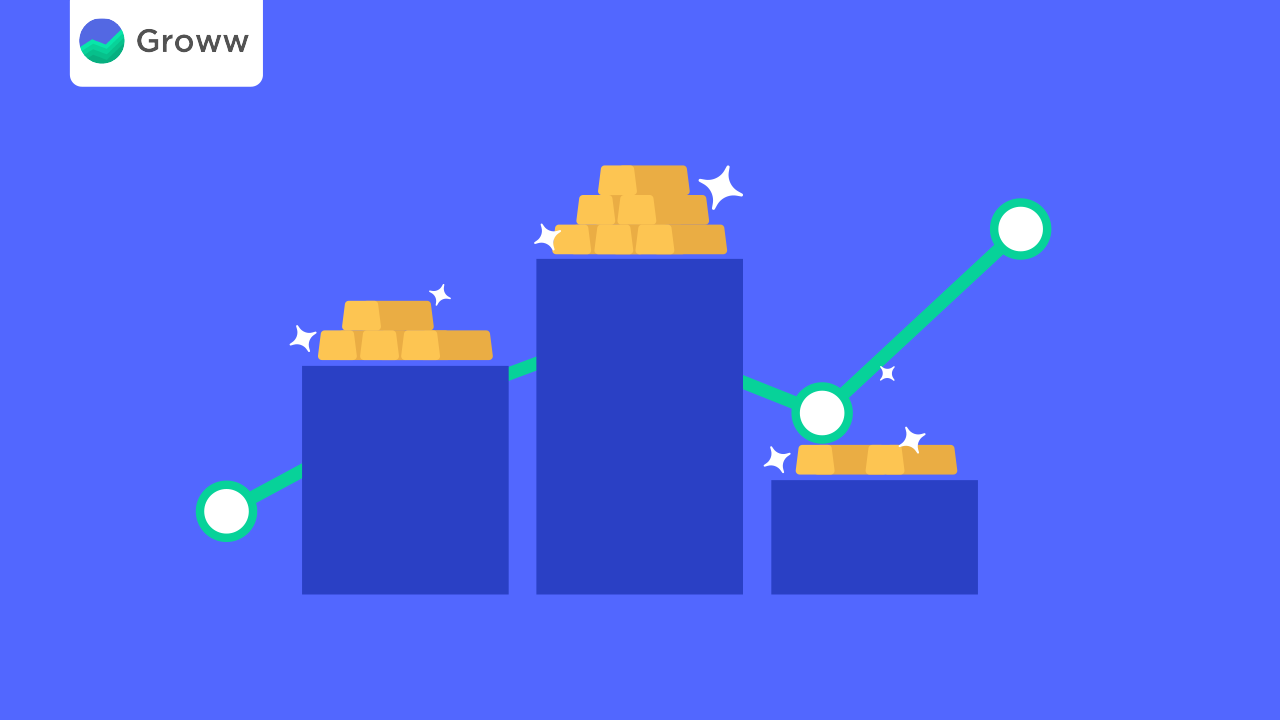 Gold is considered as a haven for investment purposes. This is mostly because it is considered to be a 'safe; store of value by many. Also, in a few cases when gold has moved in the opposite direction as the equity markets, it has helped investors protect their money against short term market risks.
There are more ways than one to be invested in gold. You can buy gold in physical forms like coins, bars and jewellery. You can also invest in gold via digital gold, gold mutual funds, ETFs and sovereign bonds as well. Through these options, you can invest in gold without having to own gold physically.
Investing in some of the best gold funds in India can be beneficial for investors who do not want to own the yellow metal at any stage. Read on to find out more on what are gold mutual funds.
What Are Gold Mutual Funds?
Gold funds refer to mutual funds that invest in Gold ETFs.
This category is pretty much self-explanatory as the funds in this section invest in gold ETFs or Exchange Traded Funds. These rely on the instruments that are directly linked to the prices of gold and invest in gold bullion. Returns are aligned with the price of gold.
Someone who wants to invest in Gold in a paperless manner can reap benefits out of gold mutual funds.
Best Gold Mutual Funds
Here are some of the best gold funds in India 2021 in the order of highest five-year returns. 
Disclaimer: This is for information purposes only and not a recommendation. Please review your goals and risk levels before investing. 
Factors to Consider Before  Investing in Gold Funds
Fluctuations in Gold Prices
The demand and supply of gold all around the world affects gold prices. This causes fluctuations in gold prices.
Just like any other investment option, even the best gold funds in India face market risk and price fluctuation. Often the market price of gold depends upon circumstances beyond the control of gold producers. However, in the long term, risks, fluctuations and losses even out for most investment options.
No physical gold
Investment options like gold funds help us to stay invested in gold and take benefits of the price movements in the commodity. If you don't want to own gold in physical form and still remain invested in the commodity, gold mutual funds along with digital gold, gold ETFs, gold bonds may be beneficial.
Taxation
Gold ETF: Taxes on long-term capital gains are taxable at 20% plus cess with indexation benefit, whereas short-term gains are taxable at slab rates applicable to the investor. A period longer than three years is considered as long term for gold funds.
Gold FoF: Under the current Income Tax regime in India, a FOF is treated as a non-Equity fund and is taxed accordingly. Short term is defined as a period of less than three years. So, if you withdraw before three years, it will be considered as short term capital gains (STCG) and it will be added to the taxable income and taxed as per your income tax slab. Long term capital gains, withdrawal after three years from the date of investment, are taxed at 20% with the benefits of indexation.
Read More on Groww: How are Different Forms of Gold Investments Taxed
Final Words
Gold funds are mutual funds that invest in gold. Most gold funds in India invest in domestic gold ETFs.  Few 'world' gold funds give you international exposure as well. Research and invest accordingly, in-line with your goals.
Happy Investing!
Investment in securities market are subject to market risks, read all the related documents carefully before investing. Please read the Risk Disclosure documents carefully before investing in Equity Shares, Derivatives, Mutual fund, and/or other instruments traded on the Stock Exchanges. As investments are subject to market risks and price fluctuation risk, there is no assurance or guarantee that the investment objectives shall be achieved. NBT do not guarantee any assured returns on any investments. Past performance of securities/instruments is not indicative of their future performance.