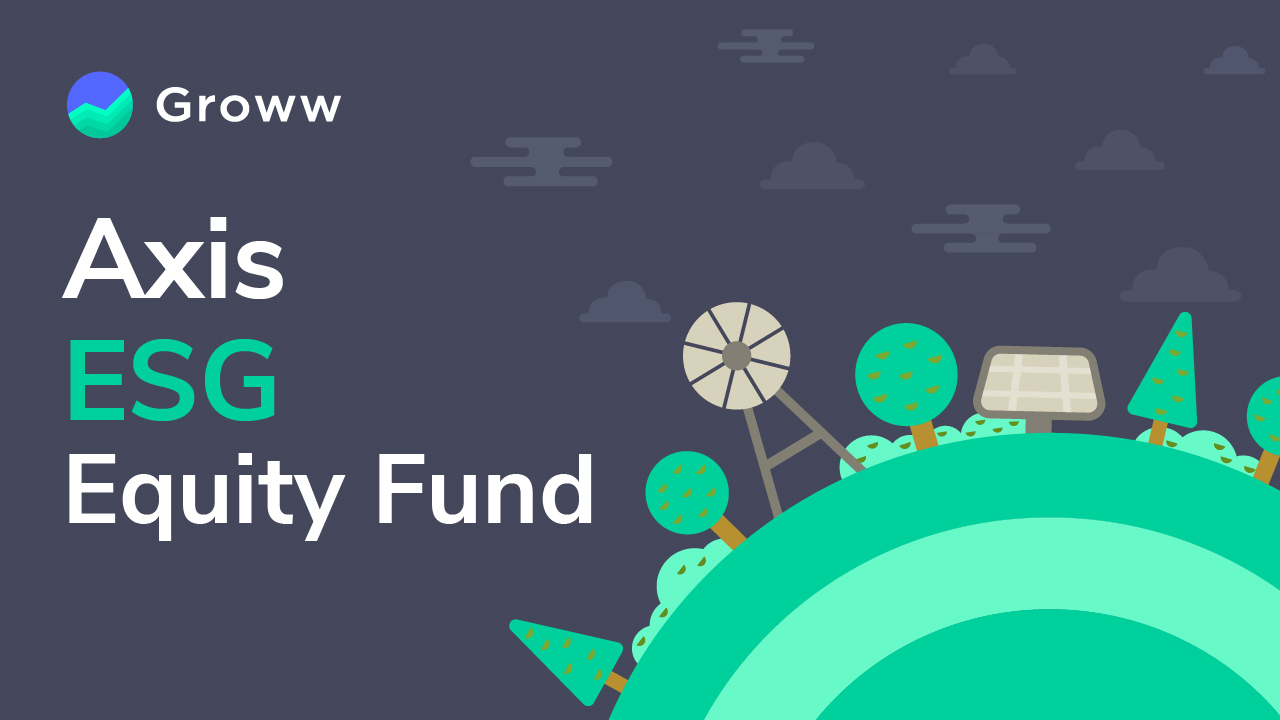 Axis Mutual Fund has recently launched a new open ended equity scheme, Axis ESG Equity Fund. The name ESG denotes Environment, Social and Governance factors and can also be considered as three pillars of this fund. The NFO is available for subscription from 22nd January 2020 to 5th February 2020. The ESG framework is utilized by investment managers to track how each company in its coverage is adopting and reacting to these factors. Axis ESG Equity Fund aims to generate long term capital appreciation by investing in companies demonstrating sustainable practices across Environment. Social and Governance (ESG) theme.
Fund Details 
Name of the Fund

Axis ESG Equity Fund

Type of Scheme

Open ended equity scheme

NFO Dates

Opens on 22

nd

January closes on 5

th

February 2020

Fund Manager

Jinesh Gopani

Benchmark

Nifty 100ESG TRI

Minimum Application Amount

Rs. 5000 and in multiples of Re. 1/- thereafter

Entry Load

Not Applicable

Exit Load

If redeemed/switched out within 12 months:

For 10% investment: Not Applicable

For the remaining investment: 1%

 

The exit load will be zero if redeemed/switched out after 12 months from the date of allotment.
 

Details About The Product: Axis ESG Approach
The scheme will be investing in a diversified portfolio of strong growth companies with sustainable business models. Axis ESG is an equity thematic fund that will follow a three-stage process while selecting stocks for the fund.
Sector Level Screening: First, it will filter out sectors/themes that are deemed harmful from a societal perspective like tobacco and alcohol. This scheme will avoid investing in such companies operating in problematic sectors/industries and maintain exclusion on an ongoing basis.
Stock Level Screening: Apart from excluding the harmful sectors, secondly, it will remove stocks that attract ESG red flags even if the company is from a sector that is not a part of the exclusion list.
Portfolio Construction: Third, it will carry out a qualitative analysis of each company from an ESG perspective, complementing its fundamental research on the company. Schroder, a global asset manager, will be responsible to advise on the foreign portion of the fund. Coming to the list of ESG factors will include issues such as climate change, product safety, natural resource use, business ethics, and transparency.The scheme's asset allocation will be a blend, i.e. 70% in Indian companies and 30% will be invested in companies outside India.
Plans and Options
The Axis ESG Equity Fund's comes in a regular as well as a direct plan. The direct plan is those investors who wish to purchase /subscribe Units in a Scheme directly with the Fund and is not available for investors who route their investments through a Distributor. On Groww, the direct plan of the scheme is available. 
Under the direct plan, both growth and dividend ( payout and reinvestment facility) options are available for investors.
About The Fund Manager
The scheme is managed by Mr. Jinesh Gopani, Head of Equity at Axis AMC. Mr. Gopani has several years of experience and expertise, he currently manages the flagship Axis Long term equity fund among others. Before joining Axis AMC, Jinesh worked as a portfolio manager with Birla Sunlife AMC. At Birla Sunlife, he supervised alternative assets across growth, value and dividend segments. Prior to that, he has also been associated previously with Voyager India Capital as a Senior Research Analyst. His qualifications include B.com and Master Of Management Studies from Bharathi Vidyapeeth Institute Of Management Studies and research.
Other Funds Managed /Co-Managed By Mr. Jinesh Gopani are:-
Axis Focused 25 Fund

Axis Emerging Series 1 & 2

Axis Long Term Equity Fund

Axis Multicap Fund

Axis Growth Opportunities Fund

Axis Retirement Savings Fund – Aggressive Plan

Axis Retirement Savings Fund – Conservative Plan

Axis Retirement Savings Fund – Dynamic Plan
How To Invest In This Fund On Groww?
You can invest in Axis ESG Equity Fund on Groww in a hassle free way. All you need to do is this just follow these steps:

Log in to your Groww account, sign up and complete KYC if you are a new user.

In the search bar, enter the fund name which is the " Axis ESG Equity Fund" in this case.

Next, the fund page will open where you can check all the additional information related to the scheme such as the asset allocation, fund manager, holdings, etc.

Select whether you want to start a One-time payment (Lumpsum) or do a SIP
On A Closing Note
ESG has become a global priority and its importance has grown by leaps and bounds in India lately. Axis ESG Equity fund aims to invest in quality companies with sustainable growth practices.  However, the company gives no assurance that the investment objective of the Scheme will be achieved. As an investor, make sure you select schemes that are in line with your financial objectives and conduct the necessary due diligence before investing. 
Happy Investing!
Disclaimer: The views expressed in this post are that of the author and not those of Groww.
Investment in securities market are subject to market risks, read all the related documents carefully before investing. Please read the Risk Disclosure documents carefully before investing in Equity Shares, Derivatives, Mutual fund, and/or other instruments traded on the Stock Exchanges. As investments are subject to market risks and price fluctuation risk, there is no assurance or guarantee that the investment objectives shall be achieved. NBT do not guarantee any assured returns on any investments. Past performance of securities/instruments is not indicative of their future performance.