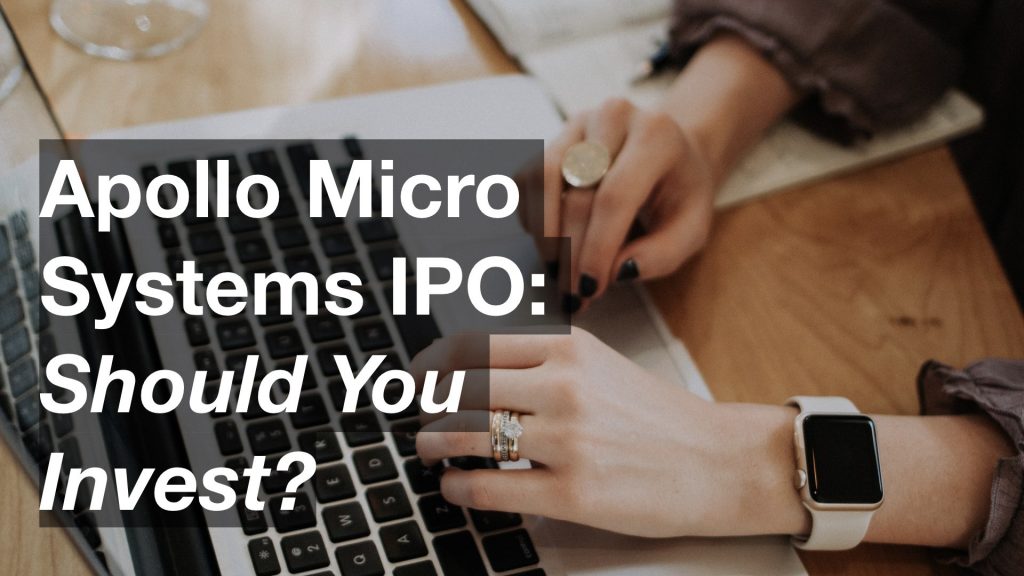 With the launch of Apollo Micro Systems IPO, many new investors are asking if they should invest in these funds. The truth is, investing in IPOs needs great knowledge and skill.
If you understand the markets well, then you can take a call regarding investing in this IPO. The details of this IPO are below.
In case you do not know much about the markets, it is best to invest in mutual funds and let fund managers invest in companies for you.
Apollo Micro Systems: Company Info
Apollo Micro Systems Limited is a defence hardware company which was incorporated in March 3, 1997. The company is engaged in designing, developing and selling high performance, mission and time critical solutions to defence, space and home land security for Ministry of Defence, government controlled public sector undertakings and private sectors.
The company has plans to diversify its services and solution categories into other marketplace. Since its incorporation, it has been focusing on defence systems development and manufacturing including space, defence, aerospace, strategic electronics.
Now it has plans to develop technologies for railways, homeland security to expand in non-defence sectors. It also plans to enter into emerging markets like e vehicles.
It is also planning to foray into missiles and other system integration including wiring harness.
The company intends to use the issue proceeds to finance its working capital requirements. The company operates in a high growth sector. Its dependence on working capital is high and its demanded valuation is similar to Bharat Electronics which is a much larger company that caters to the defence sector.
All these factors accumulate and make the issue less attractive at the current valuation. Investors can invest in this stock at a cheaper rate after it is listed on the exchange.
India's Electronic System and Design Manufacturing (EDSM) industry is around $100 billion and is expected to reach $228 billion by 2020.
The company's revenue has grown by 54 per cent annually in the past five years to reach Rs 211 crore in FY17. Net profit also grew by 59 per cent annually to Rs 18.6 crore during the period.
Apollo Micro Systems IPO Details
| | |
| --- | --- |
| Issue Open Dates | 10th Jan – 12th Jan, 2018 |
| Issue Size | Equity Shares of Rs 10 |
| Issue Price | Rs 270 – Rs 275 |
| Market Lot | 50 Shares |
| Minimum Order Quantity | 50 Shares |
| Face Value | Rs 10 per Share |
| Listing at | BSE, NSE |
The stock is supposed to be listed at upper price band of Rs 275 and lot size is 50, so the minimum amount to be invested by an investor is Rs 13750. The minimum amount to be invested has been kept very low at Rs 13750 so that retail investors can invest in it.
Allotment will be done irrespective of the number of lots an investor has applied for. Previously if an investor had applied for 5 lots and another investor had applied for 1 lot, then preference was given to the investor applying for 5 lot.
But now the scenario has changed. Now both the investors will get equal preference and it might so happen that the person applying for 1 lot might get allotment of shares whereas the other one might not get a single share.
The company has a good track record in developing new technologies and executing orders. The company invests 6% of the revenue in research and development.
The company is very heavily reliant on its working capital, as payments are received only after layers of inspection and clearance.
The interest cost is 5% and short-term liability account for majority of the debt. On an average, the company has paid an average rate of 13% interest in the past few years.
Comparison with Peers
| | | | | |
| --- | --- | --- | --- | --- |
| Company | EPS | Market Price | P/E | RoNW |
| | | | | |
| Bharat Electronics | 6.64 | 182.05 | 27.42 | 20.60% |
| Arta Microwave Products | 6.53 | 114.1 | 7.47 | 12.45% |
| Centum Electronics | 24.24 | 647.4 | 26.71 | 16.30% |
| Apollo Micro | 13.54 | 275 | 20.31 | 29.30% |
| | | | | |
The company's revenue has declined on a YoY basis, but PAT has been increasingly consistently. Over the past few years, the PAT margins and EBITDA are reasonable.
Boost to Mutual Funds
All this increase in funds into the capital market through Initial Public Offerings (IPOs) have not just improved the market in terms of market capitalisation, but has also boosted the investor's sentiment.
Because of more and more number of companies getting listed, Mutual Fund companies are also getting more option of companies to invest in. All this has ultimately increased the number of people willing to invest in the market through mutual funds.
First time investors prefer investing in mutual funds rather than directly investing in the market because mutual funds are basically a portfolio of different stocks and so the risk gets reduced.
IPO vs Mutual Funds
If you have no knowledge of the equity markets but are looking to gain from the equity markets, mutual funds are ideal. Investments can be made in Mutual Funds since they provide a wide variety and also the amount of investment can vary as per investor's preference.
Many mutual funds invest in IPOs – many times at discounted rates that are not available to retail investors.
It is necessary to not get carried away by the hype surrounding IPOs. Don't jump into IPO if you do not have the necessary skills.
In a mutual fund, a skilled and trained professional handles all investments for you and therefore, you can benefit from the equity markets without spending too much time gaining the skills needed to understand the markets.
Following are the different funds:
Investment can be made via lump sum investment or through SIP (Systematic Investment Plan) mode in any of these funds.
Moreover return is something that cannot be promised but these return estimates have been given on the basis of past performance.
Mutual Funds for 2018
Large Cap Fund:
These funds invest in large companies that have a history of good performance and stable balances.
Mid Cap Fund:
These are funds that are high risk – high return. They're a bit riskier than large cap funds.
Small Cap Fund:
These are the funds that you can invest in if you want very high growth. They are very high risk too.
Apollo Micro Systems IPO: Experts Comments
This is what few of the brokerage firms have to say:
"AMSL has a unique business model and strong growth metrics which will make it lucrative. We assign a Subscribe rating to the IPO," said GEPL Capital
The defence investment theme is long term in nature. Given the strong sector outlook, we believe that the stock would provide returns in medium to long term. We assign a Subscribe with Caution" rating for the issue," said Choice Broking.
AMSL has strong financial record and return ratios compared to Astra Microwave. Hence, considering the above positive factors, growth in the defence industry we recommend subscribe on the issue," said Angel Broking.
Make investment decisions wisely. Investing based solely on hype can lead you to lose money.
Happy investing!