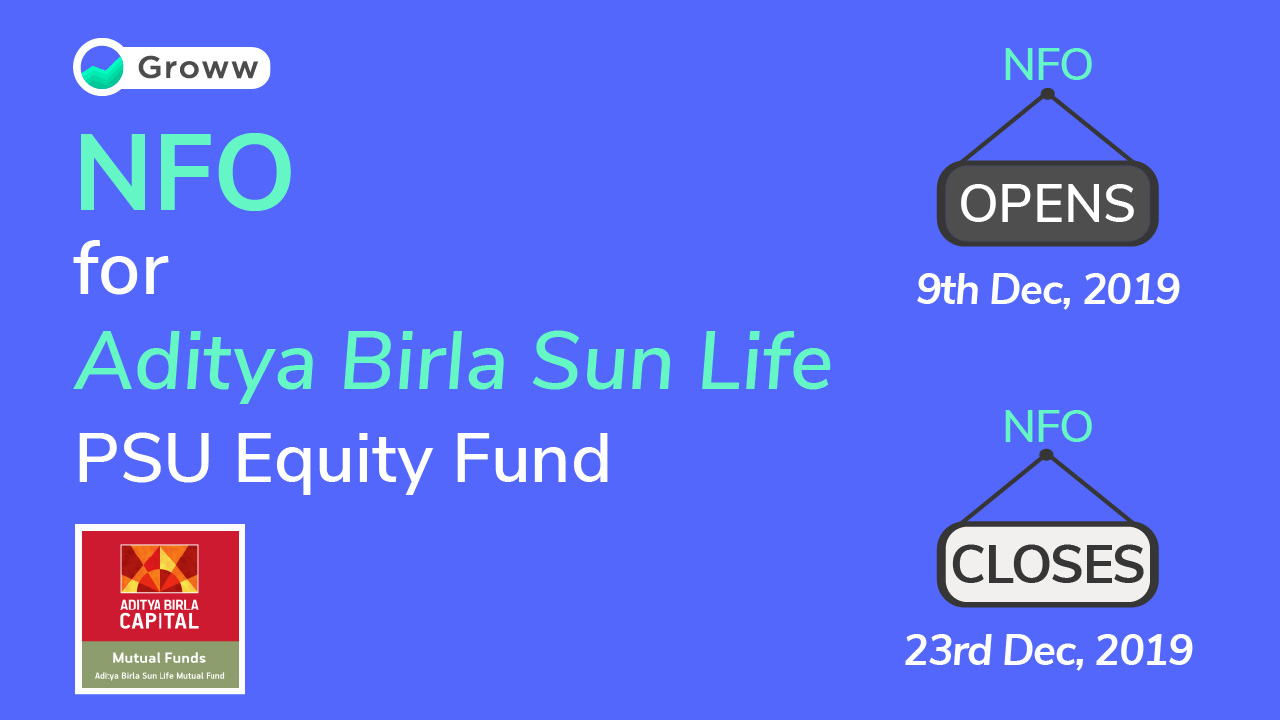 Aditya Birla Sun Life AMC Ltd has introduced a new open ended equity scheme following PSU theme named Aditya Birla Sun Life PSU Equity Fund. Investors can subscribe to this fund from 9th December to 23rd December 2019. Suitable for all those investors looking for long term equity investment with medium to high risk appetite with the investment spectrum of 3-5 years. Best suited for long term capital appreciation, the scheme will invest in a focused 25-30 stocks portfolio. A highly diversified portfolio focused primarily on sectors like oil, Gas, Power, Mining, BFSI, Defence & Engineering.
A major advantage of investing in this scheme is investors can expect strong Cash flow and Return on Investment along with more dividend yield as the investment is done in major PSUs.
Fund Details: Key Features and Asset Allocation
| | |
| --- | --- |
| NFO Dates | Opens on 9th December 2019 & closes on 23rd December 2019 |
| Scheme Type | Open-Ended equity scheme following PSU theme |
| Risk Level | Investors principal will be at high risk |
| Fund Manager | Mahesh Patil |
| Best Fit for | Investors who are seeking long term capital appreciation |
| Scheme Benchmark | S&P BSE PSU TR Index |
| Entry Load | NA |
| Exit Load | 0.5% of the NAV applicable in case redeemed on or before 90 days from the date of allotment |
About the Product
As you can figure out easily from the name itself, this product is primarily aimed for those investors who are interested in investing in equity and equity related instruments of Public Sector Units which provide them long term capital appreciation. What makes this more enticing as an user is the well-known fact that PSUs operate in the core sector of the economy and growth of a country is proportional to the contribution from the core sector.
Reasons Why you Should Consider Investing in Aditya Birla Sun Life PSU Equity Fund
PSU stock valuations are at attractive levels which ensures a good scope of safety for them

One can always rely on the genuineness of most PSUs as they are quality organizations with substantial balance sheets and has a potential to get re-rated over a certain period of time

Not to mention, they most of the times have a track record of strong return on equity and steady cash flow from operation providing a strong dividend yield

This is a recurrent opportunity likely to unfold 3-5 years down the line

Moreover, the fund is also expected to participate in non-PSU opportunities in particular interval of time, from which beneficiaries could also benefit from any government reforms or any other likely opportunity (subject to a maximum of 20% exposure)
About Fund Manager
This scheme comes under Mr. Mahesh Patil, Co-Chief Investment Officer, Birla Sun Life Asset Management. With an experience of over 23 years in fund and investment management, Mahesh is now closely working with a team of seven fund managers and seven analysts, managing a whopping excess of INR 11,000 crores in equity assets. Mahesh joined Birla SUn Life AMC in the year 2005, where he started as a Fund Manager. Some of the funds managed by Mahesh have been recognized for their outstanding performance and bagged awards from several independent agencies
Other funds managed by Mr. Mahesh Patil:
To explore more schemes click here: Aditya Birla Sun life Mutual Fund
Early Life and Education
Mahesh started his career working as computer engineer with CMC Ltd followed by short span of time spent at Tata Economic Consultancy Services. His next stop was a brokerage house; Mahesh took up the role of Research Analyst at Parag Parikh Financial Advisory. Next, Mahesh joined Motilal Oswal Securities as a Senior Analyst, Equity Research followed by Reliance Infocomm as a part of their Business Strategy Team in Corporate Finance. Mahesh has completed his engineering from VJTI and is an MBA in Finance from Jamnala Bajaj Institute, Mumbai. He is also a charter hoder from ICFAI Hyderabad
How You Can Invest in this Fund on Groww?
Firstly, you need to log in to your Groww account, sign up and complete KYC if you are a new user

In the search bar, type the fund name which is "Aditya Birla Sun Life PSU Equity Fund" in this case

On the fund page, you can check out all the additional information related to the scheme such as asset allocation, fund managers, holdings and much more
Conclusion
As this an equity oriented scheme based in PSU theme, investors looking out for an exponential growth in their wealth can invest in this product. Highly diversified in nature, it will concentrate mainly on major sectors like Oil, Gas, Mining, Power, BFSI, Engineering & Defense. One important point o keep in mind while investing in any new fund is the performance always depends on the market scenario. Although it's projected to give maximum returns, but the scheme does not guarantee any returns. There can be no assurance that the objectives of the scheme will be achieved. Therefore, a proper scrutiny is needed before proceeding with any fund to invest in.
Happy Investing!
Disclaimer: The views expressed in this post are that of the author and not those of Groww
Investment in securities market are subject to market risks, read all the related documents carefully before investing. Please read the Risk Disclosure documents carefully before investing in Equity Shares, Derivatives, Mutual fund, and/or other instruments traded on the Stock Exchanges. As investments are subject to market risks and price fluctuation risk, there is no assurance or guarantee that the investment objectives shall be achieved. NBT do not guarantee any assured returns on any investments. Past performance of securities/instruments is not indicative of their future performance.