India is home to over 3000 funds offered by a range of fund houses.
Yes, it is a shocking fact.
Thus, it is a daunting task to identify the best investment that suits your requirement.
Typically, what has been observed is investors, particularly the newbies fall for the, "Rs 10" investment gimmick as put forward by way of New Fund Offerings (NFOs) by the fund house.
In addition, an existing investor tends to think that any fund would help them achieve their desired goals, but that is not the case.
You must have read the disclaimer in the advertisement of a mutual fund that says:
"Mutual Fund investments are subject to market risk. Please read the offer document carefully before investing"
Thus, it is important you do proper due diligence before making any decision with respect to your investment.
In this blog, we seek to educate our readers such as you, so that you make an informed decision and accordingly invest your hard earned money in the best instrument.
Let us begin by explaining the parameters you should take into consideration while analyzing a fund.
We shall then cover an example, to help you understand a fund's profile.
We believe the following parameters are important and as an investor, you should take these into account
Also Read: Why You Should Start Investing in Mutual Funds in 2018
Parameters to consider when investing in a mutual fund 
1. Consistency in performance
 More than the latest performance, (as measured by absolute returns) consistency matters.
For example – We need cricketers who can score in every match at an average rate and not the ones who play well in a handful of matches.
Similarly, it is better you invest in the fund that shows consistent performance over time and not a fund that has done well  for only a few months.
2.Fund performance
The past performance of a mutual fund provides an indication of how the fund has performed in the past vis-à-vis market volatility.
While past performance doesn't indicate anything with respect to performance in the future, it helps you evaluate the volatility in return and performance in up-market and down-market.
3.Expense ratio
Expense ratio is the total expense that is incurred by the fund house to manage a particular fund.These expenses include brokerage, distribution fees, legal expenses, taxes, commission, and the likes.
This expense ratio is paid from the assets in the fund. While there is a cap imposed by the market regulator SEBI, it is always better to opt for a fund that has a low expense ratio.
This is due to the fact that high expense ratio leads to high cost and thus, comparatively lower returns.
Also Read: Stocks vs Mutual Funds: Which Will Make You a Crorepati Faster?
4.Fund Manager
This includes the fund manager's experience and his team's competency
We believe you should always check on the experience of a fund manager and his team so as to ensure that your hard earned money goes into competent and deserving hands.
Remember, the true test of a fund manager lies during the bear phase and his capability is well reflected if he/she is successful in protecting wealth erosion.
5.Asset Under Management
We believe less AUM in any scheme is risky, as we generally do not know who the investors are and nor do we know the quantum of investment made by these investors.
We believe a prudent investment process and system has a major impact on the performance of your portfolio.
Thus, you should always delve a little deeper into understanding all these aspects before entrusting your hard earned money to a respective fund house.
Let us now explain to you how Groww helps you analyze these parameters at ease.
While you can always refer to the fund's website for getting the information, Groww presents you with filtered and meaningful data that helps in easy decision-making.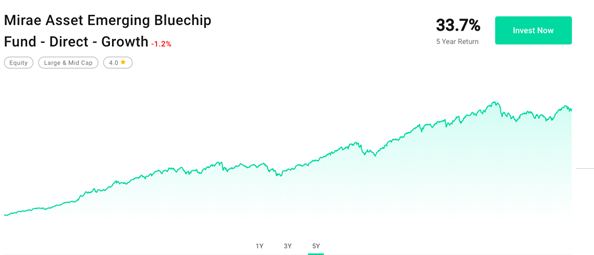 In addition, Groww provides you with crisper analytical insights that provide an investor with an unbiased and transparent opinion regarding a fund. See below.
For more funds, click here.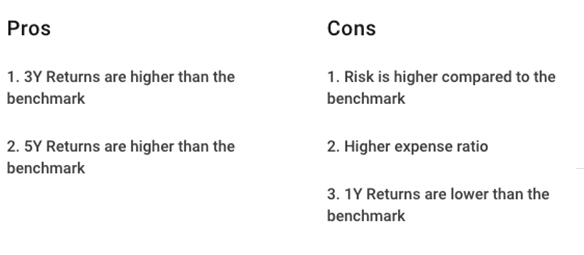 Word of caution
 Before finalizing any fund, it is important that you identify your goal and risk levels.
Is your objective long-term wealth creation or tax saving or building an emergency fund or a holiday in a year's time?
In addition, you must also introspect on your risk tolerance level. Are you ready to adapt to a swing portfolio?
Or, are you a conservative investor who is not looking for any capital erosion?
Remember, risk and return are directly proportional, thus you need to balance your desire for returns against your ability to tolerate risk.
Lastly, your investment time horizon needs to be addressed. Do you have a long-term horizon or you want to hold it for liquidity purposes?
Based on the above a final call should be taken for the investment. Should you need any assistance, feel free to connect with us.
Happy Investing!
Disclaimer: The views expressed in this post are that of the author and not those of Groww